Girls' day out in Reykjavik
After a leisurely breakfast, Debbie, Emily, Martha and I set out for the bus stop into town.  It was very cold with a biting wind so we wrapped up nice and warm.  Martha really cosy in her woolly bobble hat.
By the time the bus came along, we realised they wouldn't take our Kronors and hadn't set up the ticket app in time, so headed into town on foot.  Good exercise after all but it wasn't long before we decided to warm up in a cafe, giving Martha an opportunity for a feed.
Our first tourist attraction of the day was to be the big church which stood high up above the old part of town.  Big enough to be a cathedral, it could have been mistaken for a giant rocket! Built in 1945, a stunning piece of architecture.  Oops I forgot one other little tourist gem on the way up the street to the church, 'The Penis Museum'.  We didn't venture inside as there was plenty on view in the window, not for Martha's young eyes, but possible Christmas presents for others maybe!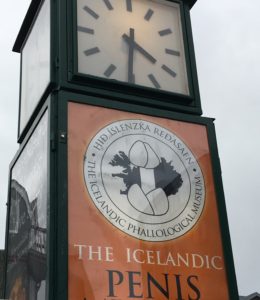 We took the lift up to the clock tower in the church where we feasted on stunning panoramic views through all four clock faces.
Time for lunch and we found an Icelandic restaurant nearby called Xafe Loki.  Delicious fish of the day (COD) and salad which Emily and I shared because the portions were so large.  Debbie chose fish stew with cheese on top which was more like a fish pie.  I sampled the local Loki beer and Martha enjoyed a carrot pouch in her high chair.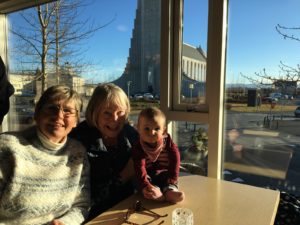 To finish I just had to sample the acclaimed fomented shark washed down with a shot of Icelandic Schnapps.  Yuk!
After Martha had a settling feed we set off for the Gallery of modern Art,  making our way round a huge 'pond'.  The Art was mainly Icelandic or by local college students.  Martha liked the huge colourful ones!
By this time we were feeling cold and tired so decided to check out the buses home.  Straightforward this time as we had downloaded the app!