The Golden Triangle
Emily and Matt had visited Iceland before and had done this bus tour so Debbie, Michael and I went off for the day on our own to see some amazing sights.  Eric from Barcelona was to be our guide.  My first thought was 'why would you leave sunny Barcelona to come to a place like this!?'  He told us that this summer, while the whole of Europe enjoyed the best summer for years, Iceland had only 17 hours sunshine!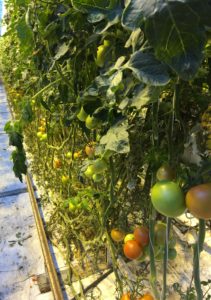 Our first stop was a huge greenhouse where a farmer experimented in growing tomato's using natural geothermal heat and pollinated by his own bees.  The plantation took off and became a huge tourist attraction.  Here we had delicious tomato soup followed by the obligatory shot of Icelandic shnappes.  Here we also saw some Icelandic 'horses' which are the only horses allowed on the island to avoid inter breeding.  A very hardy and friendly creature the size of a small pony.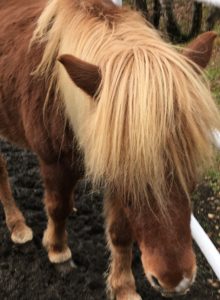 We then visited the site of some amazing geysers.  One in particular activated every few minutes bubbling up and shooting high into the air.  Others just bubbled away quietly.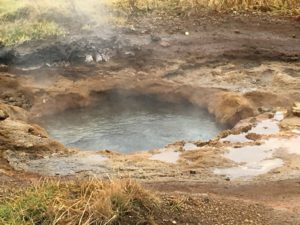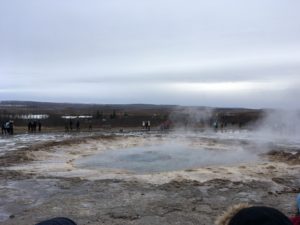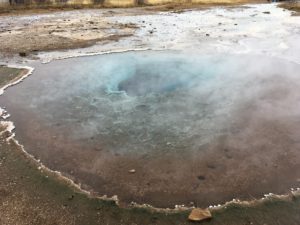 We then got back on the coach and drove through farming communities.  They really only grow hay for the stock.  Because of the climate and volcanic landscape, most of the foodstuff is imported.
We eventually arrived at the site of an incredible waterfall.  Just awesome to watch.  I walked alongside it on a high level while Debbie and Michael walked at a lower level.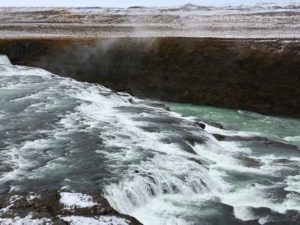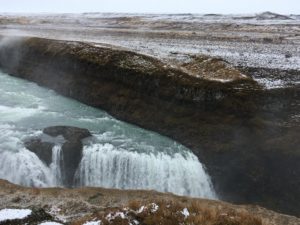 Getting back in the coach we then headed toward deep plates where Iceland meets North America.  Beautiful scenery to be seen for miles.