An hour and a half journey including motorway. Quan speaks of differing cultures in north and south Vietnam and about the river which is over 4000 km long from china, through Burma, Cambodia and Vietnam. He spoke of dry season when the wells and river have only salt water.
We arrive at Mekong and take boat ride on the brown water scattered with floating water hyacinths. Lan (one of Quan"s many concubines, so he says!) talked to us about the river's history and the local people as we made our way across to a small Island.
Here we were led to a place where they told us everything there was to know about coconuts. They grow everywhere here and are used to make everything from the tools they use to the houses with their palm roofs and their boats; also bags, cooking, vessels, bath oils and various foods. We watched their amazing coconut sweet production line from the shelling of the raw coconut, removing the inside, desiccating, cooking with malt and sugar. It is then flavoured with chocolate, ginger, peanuts, coffee etc. then kneaded and rolled out and cut into little squares. They even had girls wrapping each individual sweet and packing them all for sale. There were many other coconut products for sale but we bought mainly sweets – buy 5 get one free!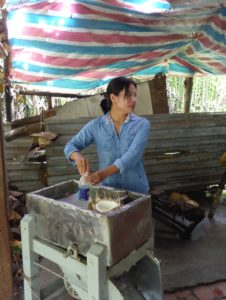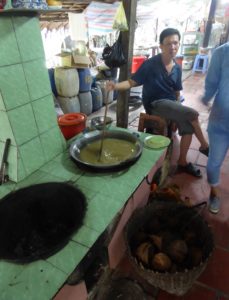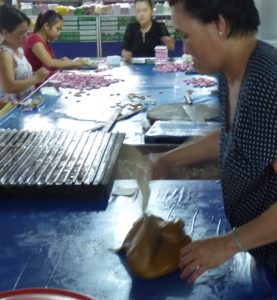 Then we tried some very strong coconut liquor. This one with a snake and ginseng was supposed to be good for men's virility and also for bad backs so I thought I should try some. This was before I saw the snake inside!
We were then shown the process for making rice paper and crispy nibbles all out of rice paper.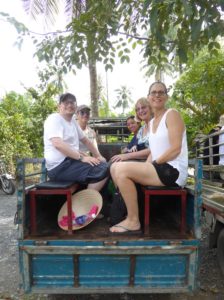 Next a tuk tuk ride through the jungle. These are motorbikes (or Hondas) with little carts on the back. We were taken to a clearing in the jungle where we were offered delicious refreshing fruits – papaya, pineapple, water melon and sweet grapefruit, then lay in hammocks under the palms like lazy tourists!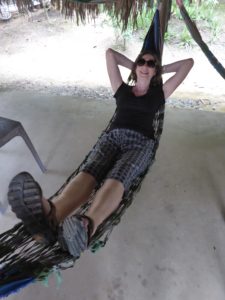 Back a different way by tuk tuk with palms flicking past us we arrived to find a table all set for us for lunch. All manner of delicacies arrived starting with elephant ear fish! This was the ugliest bird I have ever seen!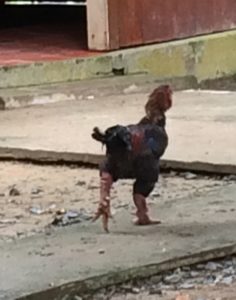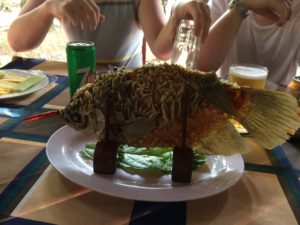 A final nap in the hammock before we were taken to step aboard our banana boat which was quietly paddled through water coconut trees along a narrow river back out to the Mekong where we met our boat again with Lan for the return trip to where our boat was waiting.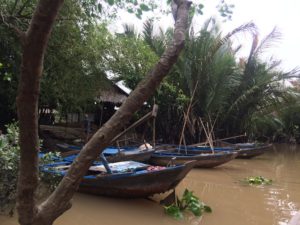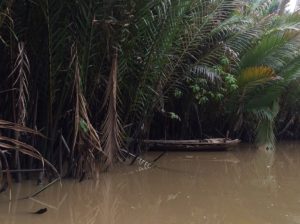 We were so lucky with the weather as it rained all the way back to Saigon!