What a beautiful Irish morning to wake up to! The view from Margaret's window is stunning and the warm sunshine is streaming through the open window.
Margaret took me out to breakfast at Two Twenty, a very nice little eating place near the coast. We both had a full Irish Breakfast. Although the menu was full of sourdough, we were able to have ours replaced with soda bread thankfully. A final catch-up this morning….
…..then finally I had arranged to meet with cousin Irene at White Rocks nearby before returning to Larne for the ferry back to Cairnryan.
I had never been to White Rocks. It was a pleasant discovery, a Sandy beach accessed from small hidden car parks on different levels in the sand dunes. It was a stunning morning with blue skies and turquoise sea. Ireland's families had turned out to enjoy the day here. I paddled a bit and then sat down near the car park entrance waiting for Irene. She eventually arrived and we sat on the white rocks and chatted until it was time for me to head back to Larne.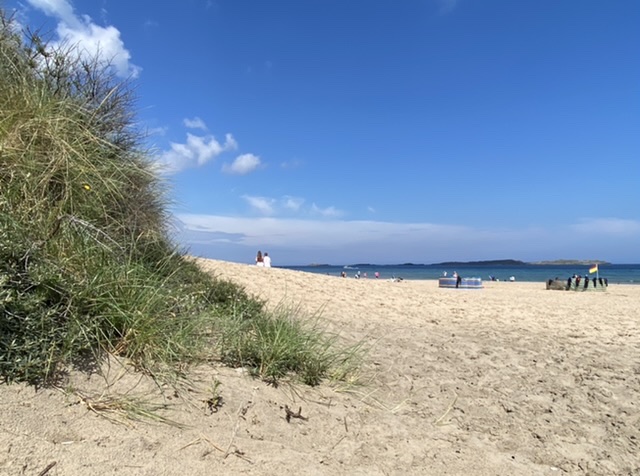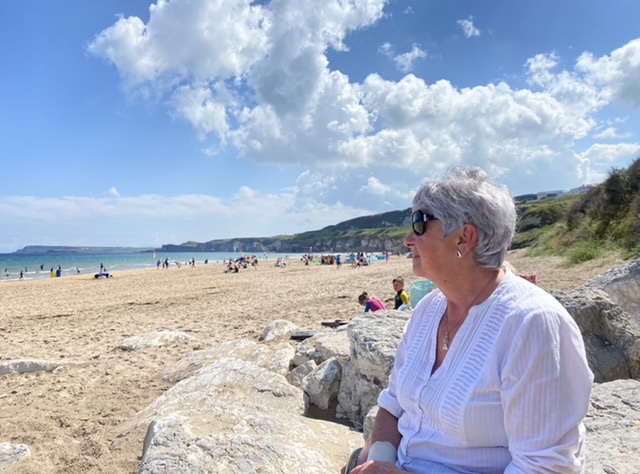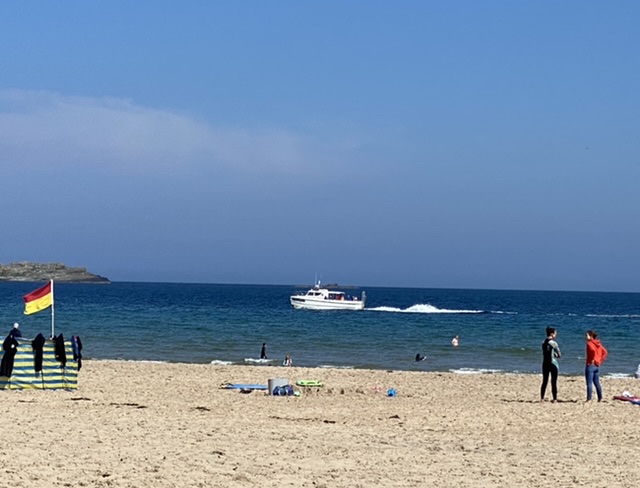 I decided to take the main road back to Larne as, although it was a beautiful day, I thought the coast road might make me too late for the ferry.
Just one more thing to do! Collect a kitten from Christine! I had had my eye on two of her five kittens all week and decided to stow away the little grey and white one for Martha.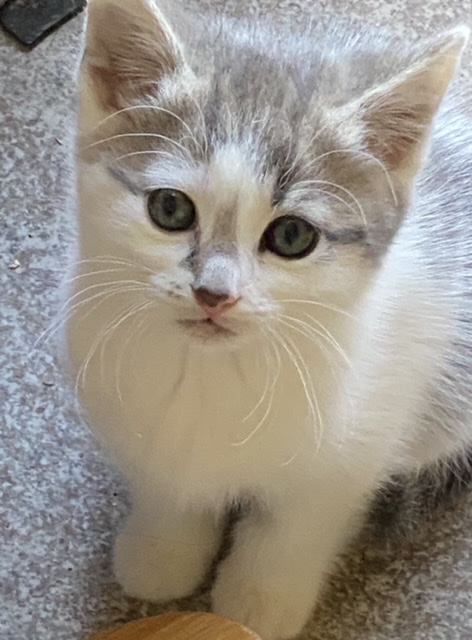 Christine had everything ready for me to transport it comfortably and safely back to Charlbury. What a star!
She then escorted me to the ferry to make sure there were no hitches. All was well and we sailed across a calm Irish Sea back to Cairnryan.
The road back to Borgue was quiet and easy. It took just an hour before I arrived back with Carolyn. We enjoyed a welcome glass of red wine before settling into a light supper and catchup of my Irish travels.
Kitty was none the worse for his four hour journey in the back of the mini. Fed and bedding refreshed, he was installed in Carolyn's utility room for the night.