We have to move hotels this evening. We were introduced to our local guide for the day, 'Tiger' (after Tiger Woods because he plays golf). We sadly said our goodbyes to Quan then left on the bus (with all our bags) for Cu Chi. Here is a picture of Quan taken yesterday on the sampan.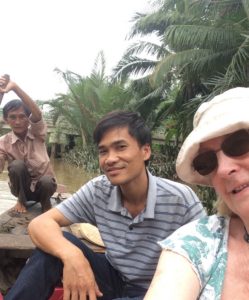 Tiger tells us about Saigon history and I am making notes while he talks to us on the bus… no longer communism although there is still a communist party. Clinton was largely responsible for capitalism and the introduction of Coca-Cola, Nike, etc. The population of Saigon is 13000,000.
Tunnels in Cu Chi accommodated 7000 people, little oxygen, booby traps poisoned spikes, scorpions, snakes. Tunnel 1 meter wide and high max. People had to crawl. Tunnels connected to bunkers zigzag to avoid fragments from bombs. Many babies born underground. Vietcong lived like animals in the jungle eating fish from the river and vegetation. It took them 4 months to move from north to south. Half a million tons of shells and bombs dropped by Americans – many unexploded which killed people after the war.
We finally arrived at Cu Chi to see all this for ourselves. Basically the local people of Vietnam conducted the war against the Americans with their sheer ingenuity! They thought of everything underground and made all they needed from recycled American equipment either during conflict or left behind when the American army pulled out. They even made their sandals from old tyres. These could be worn round the other way so that the Americans would be put off the scent! An exploded American tank was buried by the Vietcong and used as a secure hideout.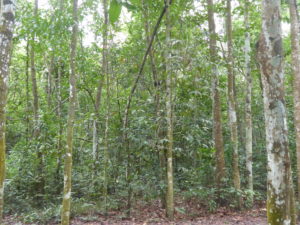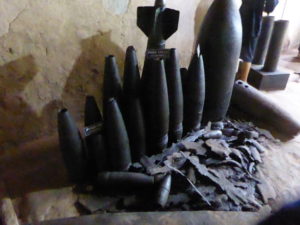 The clever but simply designed booby traps were deadly! American sniffer dogs were put off the scent by using the clothes of dead American soldiers around hidden entrances to their holes.
We eventually went down a tunnel ourselves. It was horrible – dark, claustrophobic, hot and too low- even bending down. One or two of us left the tunnel at the earliest opportunity.
There was a rifle range and Jac was keen to have a go although she said it was very difficult to hit the target. The deafening shots were a reminder of what it must have sounded like hiding in the jungle… many of the local fighters were women.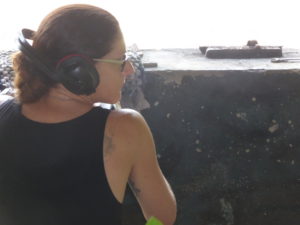 My sobering thoughts as we left the area went back to what I was doing in the 60s while this dreadfully war was going on…. listening to the Beatles and being part of the 'Flower a Power' scene.
We returned to the bus for the 60k journey back to our new hotel in Saigon – The Bloom.
Entry to this part of the city meant sitting for ages in interminable traffic jams with hundreds of motor bikes weaving their way in and out on roads, on pavements… anywhere there was a space to get through.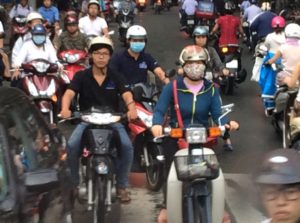 We set off for lunch with Michael leading us to one of his special recommended restaurants and then afterwards to a great coffee shop hidden away that we would never have found by ourselves.
Gill and Laire and I went to look at the Old Post Office and the Notre Dame while the guys returned to the hotel. Laire then had to say goodbye to us as she was flying direct to Seam Reap.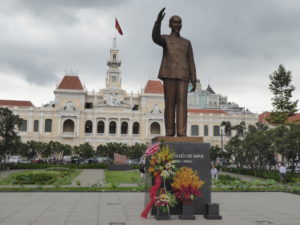 The Post Office – a beautiful building designed by Eiffel – it took 5 years to build and was opened in 1891.
Gill and I finally found our way back to the hotel where we had a meeting at 6 with our new guide for Cambodia (Ros) and we were joined by 5 more group members – all from Sydney. After introductions and a chat about our itinerary, etc we all set off together in search of an alternative restaurant to the one the guide was offering which we had learnt from experience would be much more expensive.
We had a good meal then left the guys at a beer bar while Jac, Gill and I made our way back to the hotel.