Early start @ 5am. It's still raining as we board the bus for Da Nang International airport. Quan handed out our breakfast packs which consisted of 2 slices of bread, butter and Laughing cow cheese, a boiled egg and a banana.
Our 45 minute drive was through heavy rain but we were in good time. Several members of the group had to rearrange luggage as there was a weight limit which we hadn't been warned about. Pretty stupid as Hoi An had been our major shopping place! Eventually we were able to distribute weight amongst the group and the heaviest group member paid for an extra bag which was the lightest that another group member carried (if that makes sense).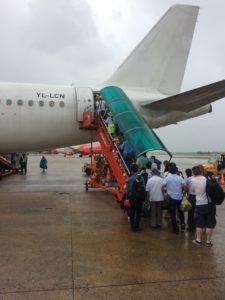 There was some turbulence on the 1 hour Jetstar flight but we finally arrived in Ho chi Minh city (formerly Saigon) at 9.30 am.
On the way to the hotel we had a short tour of the city centre by bus. We spent an hour at the very humbling War Remnants Museum, full of graphic images of the atrocities that took place during American occupation.
Then on to the Notre Dame Cathedral and decorative architecture of The General Post Office.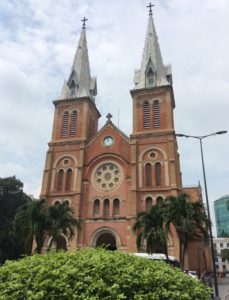 We passed The Royal Opera House where several members of our group planned to see a show in the evening.
The minibus then dropped us near our restaurant chosen by Quan for lunch. He had promised us we could have a baguette style meal there but no, when we arrived it was noodle soups, curries, etc again… very nice but more than we needed for lunch.
We finally checked in to Queen Ann Hotel was fine except it had a very tightly packed dining room and you need to allow an extra 10 minutes for the lift which randomly stopped at all floors going down and was known to then return to to the top floor (there were 10) before returning to the ground floor…. even if there was no one waiting. It was also very small and often left people behind because there wasn't room.
Gill, Jac, Michael and Gareth and I had a walk in the nearby park to get away from the noisy traffic if the city centre. It was very peaceful here.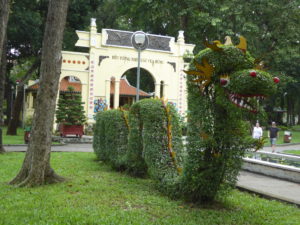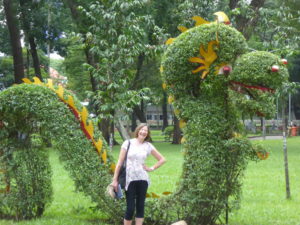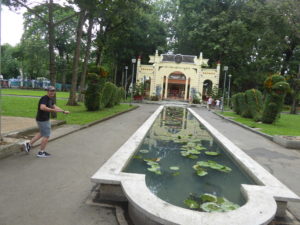 Later, Jac and I walked around the streets nearby looking for competitively priced massage parlours. I decided to have a pedicure and Jac sat with me and we chatted while this was done, while others went to the opera.
In the evening we all met up again for a meal at a bustling and very popular restaurant where you could walk around and look at the wonderful variety of foods. So difficult to make choices.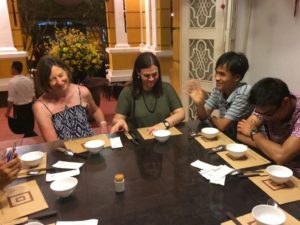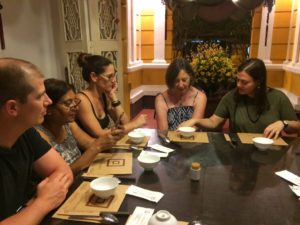 ---