We left Queenstown on a rather dismal morning and I was at least assured that I could pay for my coming night's accommodation and had some food. The whole bus pass was already paid for and luckily there was room on the bus for me today after all! Sometimes when you stay extra nights you need to let the Kiwi office know to book you on the next part of the journey on the right day. I had been so preoccupied with the loss of my cashcard that I'd forgotten this. But all was well.
Our refreshment and loo stop was in the little town of Twizel and I took the opportunity here of contacting John and Mandy, who I was planning to meet up with in Wellington, to give them some advance notice of my arrival.
There were many irrigation mechanisms along this part of our journey which were switched on dispite the heavy rain. This was good farming country. I also again noticed the profusion of lupins all along the roadside, of all colours.
Today we brushed with Christchurch. I had hoped to visit the devastated city having planned to ring the Cathedral bells when I booked my trip back in January, but the cashcard issue prevented this… perhaps this was meant to be.
181 people had lost their lives in February's horrendous earthquake , 10,000 homes had been destroyed, 5,000 needed major attention and 7,000 had minor damage.
I thought about the people of Christchurch as we drew up in Denton, inland from the city which originally had been planned to be built here. We drew alongside the Kiwi bus bound for Kaikoura, leaving the others to make their way into Christchurch. Many of these people were flying to Auckland and others were doing a tour of the devastated city.
We are now crossing McKenzie District. Maori legend has it that European pioneers moved to the area in the 1850s and began extensive grazing of sheep and cattle. The Mackenzie Country is named after New Zealand's most famous outlaw: James Mackenzie, a sheep rustler who, along with his sheep dog Friday, was accused of sheep stealing. He was finally captured in 1855, and after a series of escapes and increasing illness, he was released in 1856 and promptly disappeared forever.
This is the statue of James McKenzie's dog, Friday…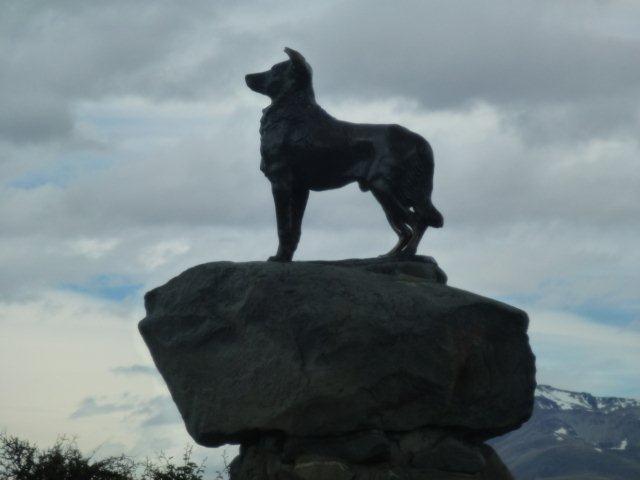 Our final stop before Kaikoura was at a tiny little church overlooking the bay and surrounded by lupins.
The temperatures up here on the east coast were unbelievably warm even when the sun was not out.
The Cabbage Trees here were covered with blossom and the scenery was as beautiful as ever as we followed the coast round parallel to the railway track. As we skirted round the bay, the railway periodically disappeared into tunnels through the rock.
Just before going down into Kaikoura we stopped at a viewpoint to take photos before being dropped off at The Lazy Shag Hostel.