I thought I would include this short trip to Northern Ireland, as part of my UK Road Trips, as I have no big plans and that always turns out to be quite exciting…. not knowing what the next day will bring.
First and foremost I've been invited to a double cousin birthday celebration and have decided to take in a few days of sketching in this beautiful country to fit around this event.
Needless to say, I'm sitting at Birmingham International Airport waiting for my flight to be called.  It is about 5 degrees cooler in Ireland, according to my app, and raining!  So planning what to include in my 10k cabin baggage was not easy.  Hey ho – will be fine!  A couple of pics to remind me how beautiful it is….
I have now touched down at Belfast City Airport. Easy flight and great company beside me. Like me, someone flying over for a birthday party but his was in Lisbon.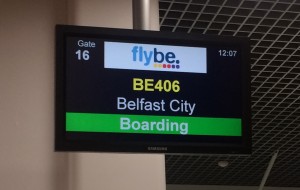 Next major task was to collect expensive hired car and find my way out of the airport. In fact the gears were awful on this purple Peugeot 108 and I managed to perform 3 U turns before finally finding myself on the Dublin motorway! Meanwhile google maps (with no sound) was beckoning me to make another U turn. I had decided to head for Antrim town, which was en route to my cousin Jim's house in Ballymoney. Now I find myself in Antrim Castle Gardens finally relaxing with a nice cup of tea. (Will post pics of the stunning gardens when I can get them off my camera)
I had planned to drive up the coast but decided, as time was moving on fast, that I should head straight to Ballymoney now.  Jim had told me to be there by 6pm.  In fact I arrived early and had a cup of coffee and a chat with Margaret before Jim arrived home from his usual weekly round of golf.  Margaret also showed me her pottery studio – wow, she has been so productive!
Was also greeted by their adorable new border terrier puppy, Bonnie.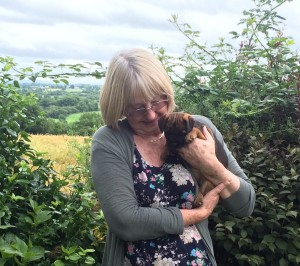 We went to the Memaid in Portrush for dinner very nice but with the most obscene sweet you ever saw made up of ice cream fruit cream and a huge brandysnap the size of a dinner plate. It was too much even for all three of us.  Afterwards walking back to the car we witnessed a beautiful Irish sunset across the ocean.