Today Kay and Chris took me to Maungatautari Bush walk to see Kakas.
Always love walking through the bush looking out for interesting plants and trees and birds.  With the autumn season arriving, so did many types of fungi.  Here are a few pics I took along the way:
We waited in a clearing for the Kakas to come for feeding time. It was lovely to watch them climbing up the tree trunks or calling out to each other gently or screeching and sometimes just posing for us on a bough above.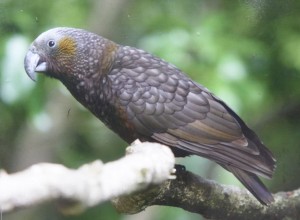 We returned to Cambridge having ordered a couple of pizzas for lunch.  I lay on the bed for an hour in the afternoon as I'd been awake during the night,and fell into a deep sleep.  I was woken by Kay's call and wondered where I was!  We were off to visit Laurie and June, Kay and Leigh's parents, in the care home.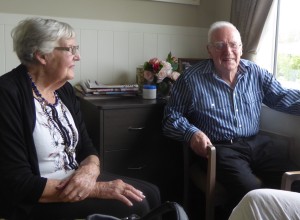 It was so nice to see them together.  Last time I saw them, Laurie showed me round the garden in their own home.  They didn't remember but we're pleased to see me.  They will be 70 years married this year.
We had been invited round to some neighbours for drinks in the late afternoon.  Lois and Roger welcomed us into their stunningly beautiful residence, just two doors down, although you couldn't really count by doors!  These homes were modern, irregularly built and stylish with floor to ceiling views in all directions.  They had seating areas for each different meal, activity or time of day, it would seem!  While Roger poured the drinks, Lois proceeded to show me round, describing her huge collection of eclectic art along the way.  She certainly had the space and large wall areas to show it off.   Every so often she pointed to one of her own abstract pieces created from her imagination often using found bits and pieces collected from beaches, etc.  Most of the other works of art were evocative of places they had visited around the world.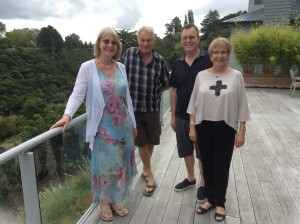 u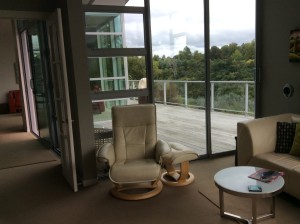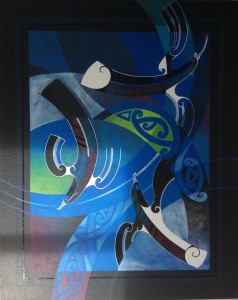 Roger had a gentle Scottish accent tinged with Kiwi as we chatted about the country of his birth and he described places I had planned to visit last year but my trip had become thwarted…. Maybe this year I thought.
We returned home to a delicious mushroom risotto and Limoncello nightcap before retiring to bed.  Another full day tomorrow.