Good breakfast back on the bus. Quan talks about funerals in Vietnam and what happens to the body. Some years after burial the body is exhumed so that the bones can be cleaned and then reburied in stone or marble. He told us all about his father in law whose coffin he opened.
Notes made en route…. 4 hrs to Hoi An shipping port 17/18 century – many Chinese. Not dated by war. Good shipping port for French. In 1991 became tourism centre. Tailors prolific. Will be options to cook local food, cycle to a farm and visit a 7th century temple.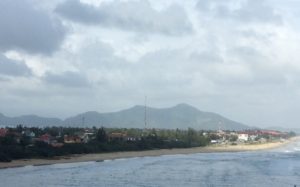 The rain came on heavily after about an hour.

Stopped for coffee comfort stop pic of boys in boat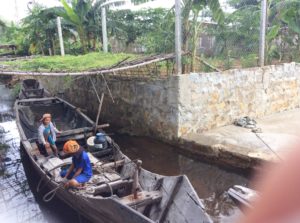 Stopped at Lang Co Beach to take photos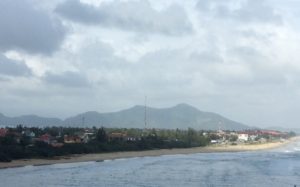 Stopped again near some American bunkers. Amazing high up views of the ocean (if we could see it) very misty with drizzle.
Da Nang city important for Americans
Big net – fixed at 4 corners, light in the middle turned on at night attracts the fish like calamari.
At last arrived at our beautiful hotel in Hoi An. – Thuy Duong 3. We were all so excited by the place that we rushed into each other's room to check them out. Each had some feature artistically designed to make it unique. Our room had a little hideaway area with a balcony, overlooking the colourful street, with a window seat.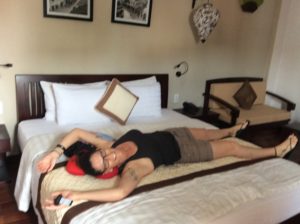 After freshening up, Quan took us to a restaurant for a group lunch. We were beginning to find his choices of restaurant a little pricey, having discovered (and with Michael's knowledge) that we could eat very much more cheaply elsewhere! So we just had light bites with Quan then ate more substantially when out on our own.
We spent the next hour or so exploring the relatively quiet streets of Hoi An, not nearly as treacherous as previous towns. This town is known for it's silk and tailors. Gill's daughter had given her the name of a tailor she had used when she was here some years ago which we found. While Gill was ordering special flip flops for her daughter, I decided to have some shoes made.. reckless I know, but I've never in my life had shoes made to measure and probably won't again! After choosing style, colour of leather and being measured, I did a bit of bargaining on the price. We met up with the others and found that they had also been shopping for tailor made items. We would collect our items the next day.
Jac and I had decided we would like a massage. Quan had earlier mentioned I could get a taxi to one and it would cost $15-20 which was quite reasonable. However I thought I could do better nearby as I'd had one in Bangkok for very much less. Indeed Jac and I booked ourselves in just 2 doors from the hotel. Wow what a great experience. A young Vietnamese girl (she looked no more than 16) set about my back and went in deep all the way up my vertebrae as if putting every bone back in place. Then she worked on the muscles and sinews of my arms and legs turning me over for a repeat treatment. Then she set about my shoulders neck and head, pushing her fingers deeply into each temple and then knocking 6 bells out of my skull!
In the evening we had decided to go to a restaurant we had passed during the afternoon. It was a great place down a narrow back alley and clearly very popular. All manner of different foods were placed on the table almost immediately and we were shown how to make wraps with cucumber lettuce, vegetables and meats then dipped in chillie sauce of course. The idea was to eat as much as you wanted for a set price.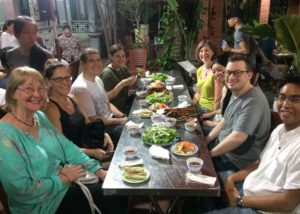 The breakaway group then set off to the waterside for cocktails – Michael, Gareth, Laire, Gill and I. We ended up at a top balcony table overlooking the water and the boats. We decided to choose a different cocktail each so that we could try each others. Each cost less than £4 – Fabulous evening!