After a rather restless night – very hot under the mozzie net
and the sound of
fishermen under our chalet with flashlights reflecting around the ceiling, I eventually got up to a beautiful dawn over the mountains with the storks, ibis and egrets welcoming the new day.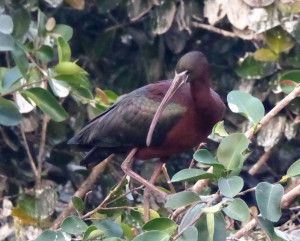 Wyn our guide, was there to greet us after breakfast at 8 as agreed. Such a happy fellow, with a wonderful sense of humour and joi de vivre. He has a very graphic way of describing things using animal sounds and body parts to make up for his poor pronunciation of some English words.
Today we headed off at high speed in the motorised sampan in the coolish morning breeze to th
e floating gardens. These were made up of plants that grew naturally on the surface of the water with roots like bubbles that popped if you squeeze them. We saw many types of farming in this area, including dredging the bottom of the shallow lake for weed to fertilise crops.
Fishing using a special net and spearing technique. Rice fields, gourds, etc. there were many species of birds in this region, including a beautiful kingfisher, somewhat larger than our own.
We had lunch on the balcony of a restaurant in one of the farming villages. Watching monks coming in to the monastry in boatloads.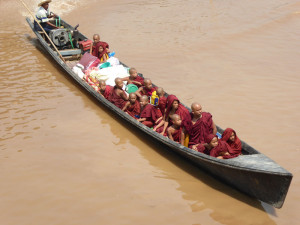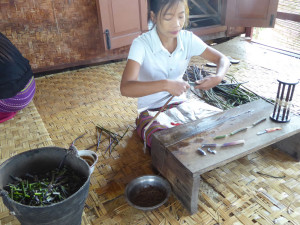 I was always worried about their brown shaven heads burning in the hot sun.
During the afternoon we were taken to see a variety of workshops where local crafts and industries were demonstrated including Lotus and silk weaving, Boat building, Silversmithing, Paper making and Cheroot making skills. We also saw members of a Tribe who have brass rings put around their necks from an early age. The rings are added to over years making their necks very long. It looked exceedingly uncomfortable. We were told that this ritual is dying our with new generations.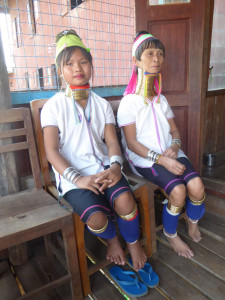 On the way back we called in to see the place where Burmese cats are bred and saw many of these, ranging in colour from chocolate brown to a silver grey, in an open area in an island with little houses and play rooms created specifically for cats.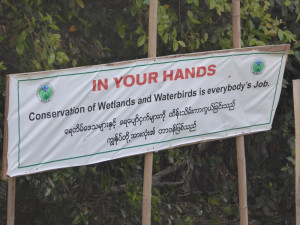 We returned earlier to our accommodation on the lake so that we could spend a bit of time watching the birds in the wetland conservation area nearby.
The Internet was poor here, not surprisingly being on a lake surrounded by mountains.