The first part of my UK Road Trip is a mini one taking me to South Wales and Ross-on-Wye visiting friends.  I hope to take in Tintern Abbey and maybe do a few sketches along the way….
Here is the roadmap of my route which takes in Gloucester, Chepstow, Tintern Abbey, Cardiff and Cardiff Bay, Caerphilly, Monmouth, Garway, Ross-on-Wye, Burford  – 350 miles in all.
Ok, here we go….. I finally set off on a beautiful August morning heading for Gloucester.  I had plenty of time and really didn't want to use the motorway. The roads were fairly clear and I arrived in Gloucester in good time to have a wander around the newly regenerated dockland area well not that new but still nicely done.  Between the car parking area and the quayside I crossed a walkway over a wetland nature reserve, which was full of bulrushes and ripe blackberries.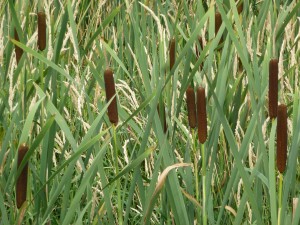 After about an hour, taking in a snack and a good walk to stretch my legs and ease my back after being cramped in the car, I headed on down to Chepstow, again avoiding the motorway.  I came upon some pretty towns on the River Severn which I vowed I would stop at and take a look aroud when I had more time: Newham and Blakeney.  I was aiming to get to Tintern Abbey for an afternoon break. The drive down there through the Forest of Dean was delightful.  We live in such a beautiful country when the weather is fine!  I passed the famous Chepstow Racecourse and the ruins of an old castle which I thought I might look around, but my satnav had other ideas and took me away from it up a winding road through a densely wooded area that reminded me of Vancouver Island.  Finally the ruins of the Abbey appeared in the clearing which was Tintern!  Wow, impressive.  I parked the car and spent an hour or so exploring the ruins.  An artist's delight!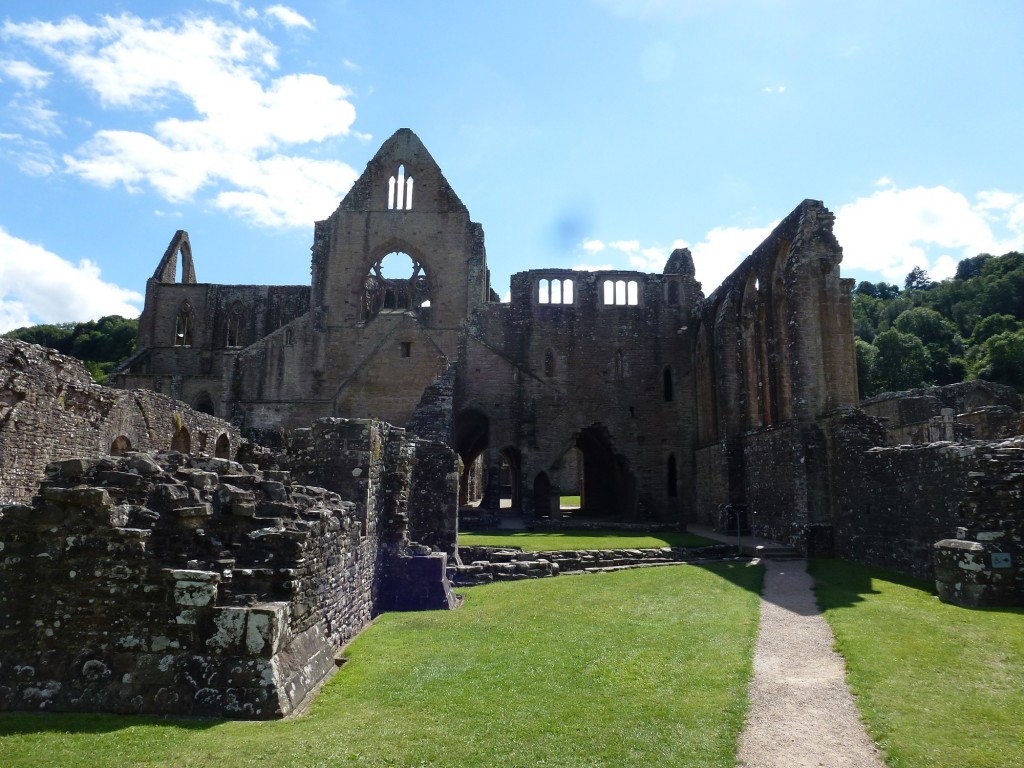 After enjoying a welcome ice cream, I set my satnav app for Cardiff Bay.  This actually now took me on some motorway for the last stretch of today's roadtrip which was fine.  I was delighted by the holiday atmosphere when I walked across from the carpark in the warm late afternoon sunshine to the bustle and music emanating from the "Beach".  Families were having a wonderful time with all the fun of the seaside.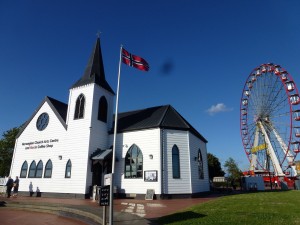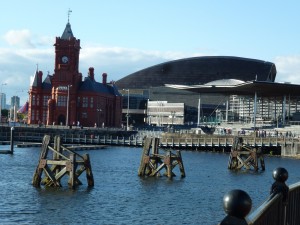 I walked on down through this noise and excitement to the waterside to look at the boats and then on round to the little Norwegian Church which was now an Arts Centre. Closed now… maybe I will return tomorrow as there is a Dali exhibition on.  As I walked back up to Bar One for a drink I passed through an exhibition of beautifully preserved vintage cars.  A welcome elderflower on ice before getting in touch with Judy who I was staying with this evening.  I have known Judy for many years in Charlbury.  Our Border Collies were brothers and we used to walk them together down by the river.  We also sang in the choir together.  Judy has now come down to Cardiff to be near her family.
A little longer savouring the atmosphere of Cardiff Bay before heading up to Radyr and Bucks Fizz with smoked salmon in the garden before the sun finally went down over Castle Coch.  What a full day!