I should mention a little bit here about the Beachside Backpackers Hostel where we were staying. I always remember in my youth staying at a YHA Hostel in France. We were about 15 young people in a room laying on canvas beds on basic wooden frames with shared convenience. I hardly slept a wink but reminded myself this is a really cheap option – around the equivalent of about £2 a night! The Beachside Hostel at Agnes Water on the other hand was a far cry from this.
For just $25 each including breakfast, we had a good sized private room in a small modern complex, each with a balcony area. (Cheap by today's standards!) The room had four ample-sized new looking bunk beds and an en suite shower and toilet. Downstairs, there was a small kitchen area with all basic essential to prepare our meals, as well as a barbecue area on the open terrace.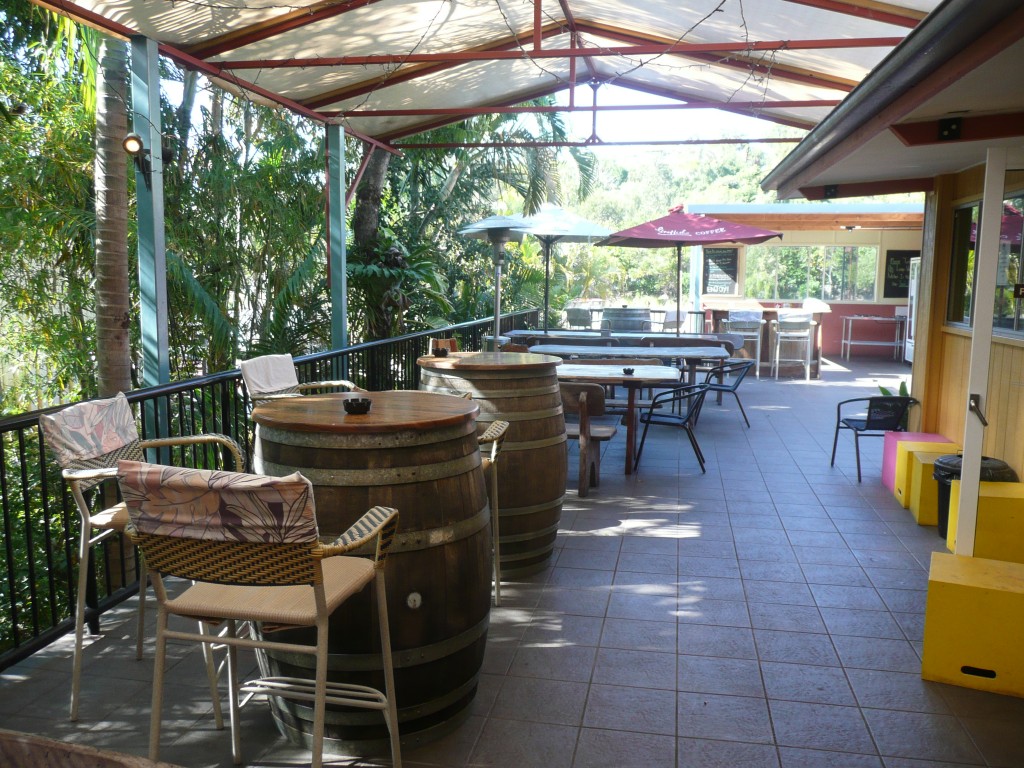 Further facilities included bar, games room, tv and internet room and pool. The hostel was situated just 200m from the most idyllic beach, as you saw in yesterday's post.
The occupants were mainly young travellers, some single, some honeymooners and also a few older people like myself. This brings me nicely to my main activity today……
First of all, as it was not really a day for the beach, I must put in here that we decided to drive around the locality a bit before the highlight of my day. We made our way back up to the 1770 Marina and coast beyond. This is one of the places where Captain James Cook landed over 250 years ago. There is a plaque commemorating the spot where a tree originally bore his initials.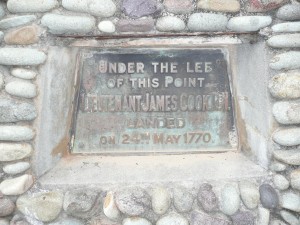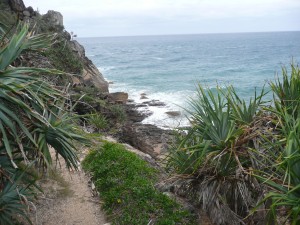 We walked around the peninsular admiring the shear cliff drops as well as the plant life.
Back to the backpackers hostel….. The previous evening, Kylie and I were cajoled into taking part in a silly competition involving drawing a rude picture in chalk on the terrace floor. I will leave the subject of the drawing to your imagination! We thought we did a pretty good job and it was fun. Anyway, to cut a long story short, we didn't win. However, the young guy who did win couldn't take up the prize because he had other plans, and offered it around. The prize was a Chopper Tour: to experience an exhilarating 60 km ride, spotting wallabies and kangaroos from your own chopper, then enjoy the sunset over the ocean in the dream location of the Town of 1770. When he approached me, my immediate thought was motorbikes? No way!! But then I remembered my pledge to myself of getting out of my comfort zone and this was just too good an opportunity to walk away from.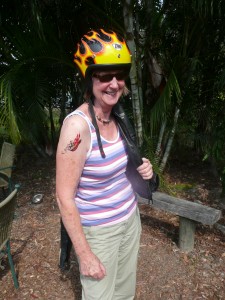 As I slipped on my leather jacket after being tattooed, I thought "Am I crazy or what!" The other kids, mainly aged about 20 were just awesome and had no more knowledge of riding these things than I did! As we mounted our machines, I found the only one left for me was a high handle-barred easy-rider style bike. I actually found this far from easy and was eventually offered a more conventional alternative.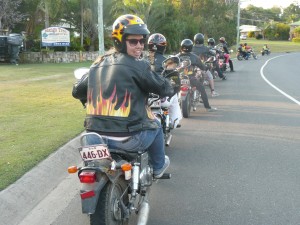 We had a basic lesson lasting about half and hour before hitting the road. The biker team were so encouraging – I must have had a terrified look on my face under my enflamed helmet as we did our tentative circuits on the gravel practice track. A tanned-skinned, bleached-haired surf dude smiled at me and told me to just relax and enjoy. That seemed to do the trick and before I knew it I was sailing along the public highway with the wind in my hair.
I gained confidence rapidly on the open road and was soon reaching speeds of 70kph WOWEEE!! Every so often the team slowed us down and kept us in check. A couple of lads were having little competitions with each other and doing wheelies. I kept both my wheels firmly on the ground but did do a bit of adventurous overtaking. We stopped to view a few roos on the way and finally took a break for wedgies and dip as the sun set over Bustard Bay.
I chatted happily with three medical students from Brighton Unversity, who were in awe of my biking achievements – just luv em!
We returned at dusk and as we sailed past the hostel, I waved frantically as I saw Kylie, Jera and Ash standing outside waiting for me. Wow what a fantastic experience!!