We woke up in our bunk beds to a beautiful sunny morning. Actually it was 5.30am and some exotic bird whistling on the balcony rail had alerted me to the fact that I had agreed to an early morning dip in the ocean.

Credit to Kylie for the above 3 pics
We all made our way along a track behind the hostel through a mini forest over a rickety bridge and there spread before us was a huge expanse of lovely golden sand and and even bigger expanse of summer blue Pacific Ocean, It was just the sort I liked with good sized breakers crashing on to the beach, ideal for keen surfers but I was there for the jacuzzi! Jera went for a jog while Kylie, Ash and I ran into the surf without hesitation. It was warm and inviting.
We returned for breakfast in the hostel, a self-service affair of toast and tea which we ate on the open balcony surrounded by palms. We were then picked up outside for our long-awaited day on Lady Musgrave Island.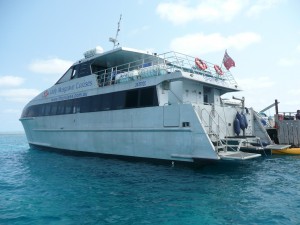 We boarded the catameran speedboat to a cheerful welcome from the crew and were shown to our seats. I wondered at this point whether we would have to remain seated for the duration of the hour and a half journey to the island. However, I was soon to find out why as we headed for the open sea. With a blast on its horn, there was a surge of power and the boat rose up onto the crest of a wave where it leapt from one wave to another. There were whoops of oohs and ahhs at first which settled down for the remainder of the journey. Jera became seasick to put it mildly and was taken to the back of the boat to aid recovery. Once we realised we had to hold on very tight when moving about the boat, we were allowed up front on deck. It was just amazing, like the bow of the Titanic but better! Some of us caught sight of a sperm whale surfacing and then diving in the distance. Wow this was something I hadn't expected.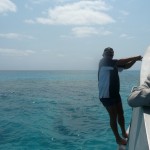 Soon our magical experience was to begin as we neared our island. Lady Musgrave Island is an uninhabited coral cay in the Great Barrier Reef, one of the world's greatest natural phenomenons and a World Heritage Listed Marine Park. Lady Musgrave Lagoon's amazing colours and beauty are unsurpassed anywhere in the world, boasting an abundance of coral, fish and turtles, all of which we were about to experience first hand! The first thing that hit us was the incredible turquoise colour of the water as we entered the lagoon. The only place I had experienced this before was on an island off Indonesia where there was also coral.
As the vessel was secured at the pontoon, we were informed of the events of the day. It turned out to be more than we ever expected! We all took to the water straight away and spent a considerable time exploring the amazing underwater city of coral inhabited by the most beautiful and strangest creatures on the planet. This was all in colours you just don't see anywhere else…..not even on a watercolour painting! But the highlight of the day was glimpsing a green turtle and swimming with it. Such a calm and effortless experience. This creature is totally different in water to on land, amphibeous though he may be. We were free to snorkel in an area probably the size of a football pitch. We were put in groups to do various activites throughout the day which included snorkelling, a visit to the island, scuba diving, semi-submerged boat, fishing, or just relaxing and watching the activities.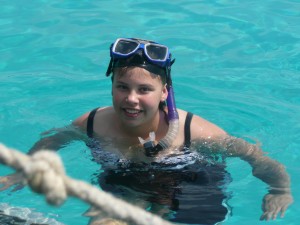 Lunch was just the best – a variety of cold food including roast chicken joints, fresh king prawns, various sliced cold meats, delicious mixed salads and sliced tropical fruits, such as pineapple, melon and mango…. and as much as you wanted!
A dozen or so of us went ashore on the little island. We were told about the awesome variety of birdlife and vegetation including Pisonia trees, Lady Musgrave Island's primary vegetation, with She-Oaks and Pandanus trees also featuring prominently in the island's makeup.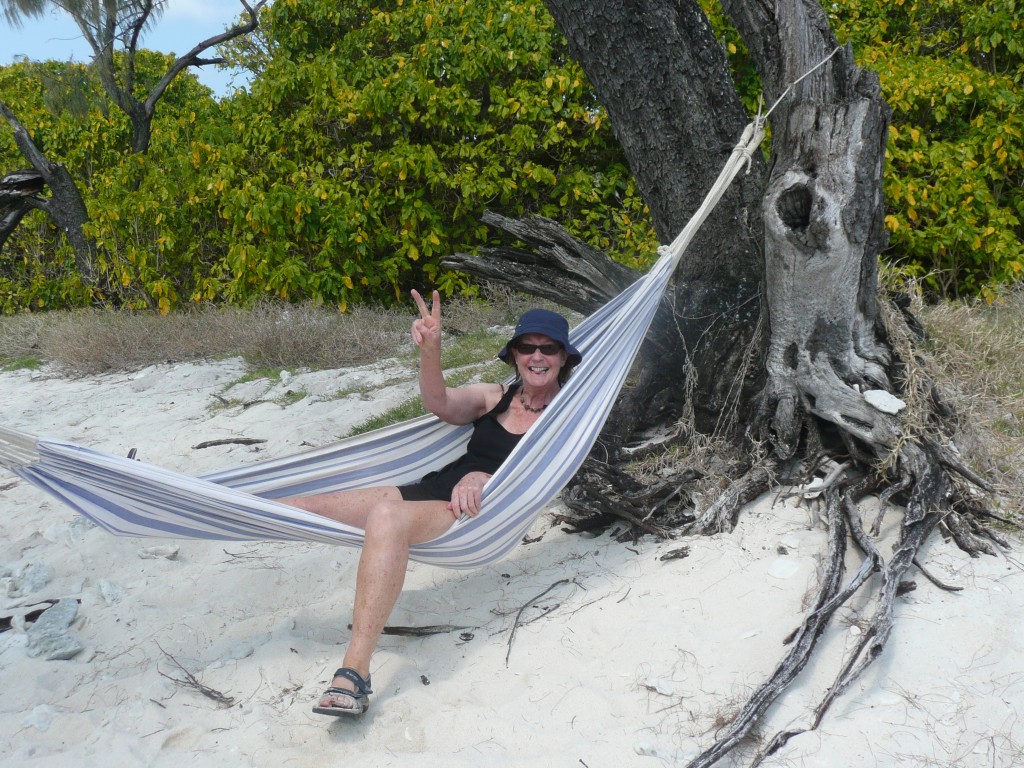 We saw many white-capped Noddy Terns which can be found nesting in the Pisonia Trees while the Silver Gulls, Bridled Terns, and Black-naped Terns nest nearer the beach on more open ground areas.
Most notable of the non-birdlife are the Green and Loggerhead turtles, which nest on Lady Musgrave Island between November and February.
Apparently, Leopard sharks and Whitetip Reef sharks hunt in the shallows around the island but aren't a danger to humans.
The island is quite tiny and we walked through to the other side and then back round along the coral beach. I now know how Robinson Crusoe felt, complete with hammock! Idyllic (for a while maybe).
By now it was time to return for tea which was actually an English style cream tea complete with scones jam and a dollop of cream – yum!
At 3pm we sadly had to leave this paradise and return before low tide. However, there was more excitement to come; at one point a school of dolphins accompanied the boat. It was such a joy to catch their shiny fins as they moved effortlessly through the water and in front of our boat. A little later my Korean companion, who I'd been chatting to on deck, exclaimed "Look, what's that?" It was what can only be described as 'a shower of' flying fish glinting in the late afternoon light. I am always amazed at how long these fish stay airborne. Fortunately Jera was fine on the return journey. Heavy seas is apparently something the mind has to adjust to.
The sun was slowly going down over the ocean as we approached Agnes Water again, however the tide was very low and we were asked to move from bow to stern and back again in order to shift the weight on the boat to stop it getting stuck in the sand. This all added to the excitement of the day. The skipper finally managed to dock with cheers from the passengers and we disembarked with a hi-five to each member of the crew. What a magical day!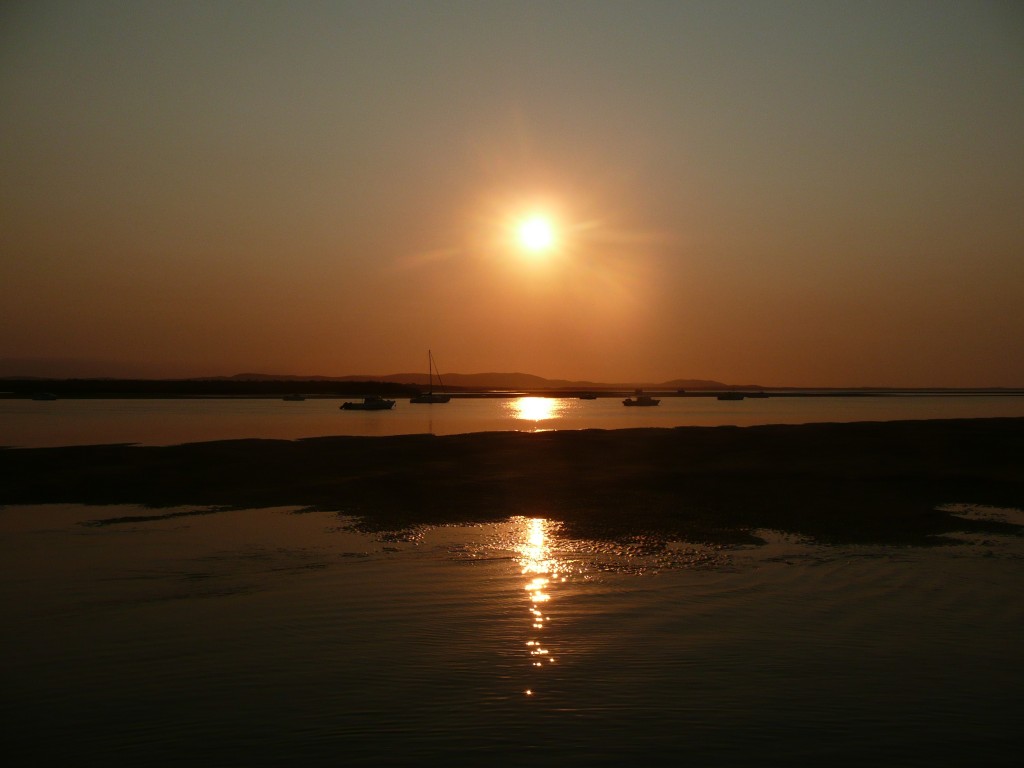 Finally we watched the sun go down over the Pacific Ocean in Bustard Bay, a rare occurance on the Queensland coast!