Eight hours sleep – wow I haven't experienced that in a while! and a king sized bed! I opened the shutters to a view to die for – a sparkling day with the bright sunshine illuminating the bay down beyond the garden.
After breakfast Carolyn took me down to the coast where we walked up to a viewing point with almost a 369 degree view of the surrounding coastline and islands. We heard and saw a variety of birds including a whitethroat and a lesser whitethroat, a greenfinch, a kite, a ringed plover, an oyster catcher. I could not possibly name all the wild flowers and rock plants near the beach but I remember wild thyme, sage, sea cabbage… Carolyn, who is a botanist knew them all by name of course.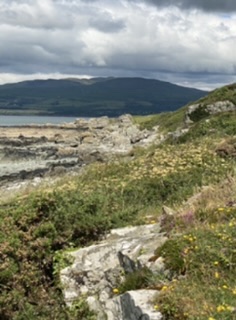 Lunch was booked at The Laggans, a very popular new family run restaurant overlooking the sea. We had delicious whitebait starters with olives followed by prawn linguini, with cherry and chocolate tart and ice cream to share to finish.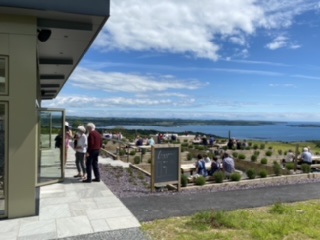 After lunch we stopped in agate house of Fleet to look round an exhibition centre. I was here 36 years ago at a cousin's wedding at the Cally Pally.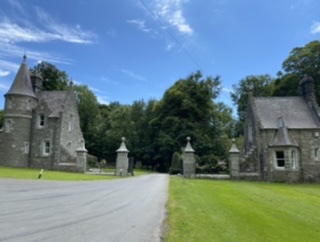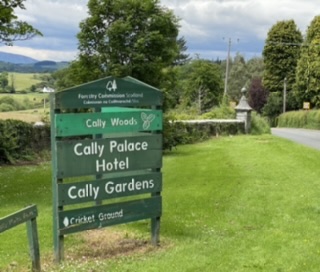 We returned home to spend the afternoon in Carolyn's beautiful garden. She gave me a guided tour of the herbaceous borders, the vegetable garden, the meadow full of orchids and her very own 5 acre wood, not to mention her historical motte! We both fell asleep in the sunshine then revived ourselves with a cup of tea and shortbread. In the evening Carolyn rustled up a lovely light salad meal using mainly fresh produce from her garden.