Beautiful sunny morning. Nice leisurely breakfast continuing our chat… we decided on a walk by the lake (Wast Water) as I would be spending another couple of hours driving to Scotland this afternoon. It was just as I remembered it, extremely picturesque with the Fells as a back cloth reflected in the clear water. Foxgloves in abundance amongst the new bracken growth.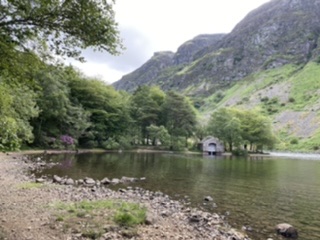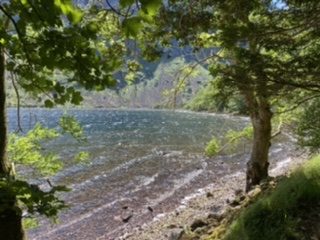 We had a light lunch sitting outside in the sunshine beside the river at The Sawmill – delicious curried lentil and coconut soup.
Finally it was time to head back and say our goodbyes. I would spend some more time with Dot on my way back. Now I needed to head to Whitehaven in search of a phone charger that worked! My phone was dead and all my journey info and communications were on it! Thankfully Tesco's had a mobile phone department. They tested my leads, neither of which worked, charged my phone and sold me a new lead which did! What a relief.
I was then able to pick up several messages from her giving directions and proceeded without stopping to Castle Douglas where we had arranged to meet to look at the Ospreys. Carolyn was waiting in the car park with a welcome cup of tea for me!
We walked through a lovely wild National Trust area to Treave Castle. Situated on an island in the middle of the River Dee, it is only accessible by boat. Now under the care of Historic Scotland, this massive tower house was built in the late 14th century by Archibald the Grim, Lord of Galloway. It became the stronghold of the Black Douglases and still today, round its base you can see the artillery fortification, an innovative defence years ahead of its time, built before 1455 when James II besieged the castle. Although it is currently closed to the public because of the pandemic, Carolyn (one of the Osprey wardens) was able to take me to a look out point to view their nest. She set up a powerful telescope so that I could view the pile of sticks in a treetop containing three chicks. Mother was keeping a watchful eye nearby, while we were lucky enough to see father bring in a fish in his talons. So exciting! A further treat was to see a family of Peregrines on the top of the tower.
We spent over an hour watching these birds before returning to Kirkcudbright along the estuary to Carolyn's home in Borgue. I would never have found it alone. The satnav kept wanting to take a different route!
Carolyn had a delicious fish dinner waiting. We enjoyed a glass of wine and watched the sun go down over the bay from her window.