Back on another adventure, this time to the Highlands!
9:42 Train from Charlbury to Oxford on time, half hour wait for cross country to Wolverhampton at 10:42. Heavy rain shower at Oxford station but beautiful sunshine en route to Wolverhampton but no free wifi! Did I need all those sweaters I brought?
Ooh a bit chillier on the platform at Wolverhampton but free Virgin wifi… not so on the Virgin train to Edinburgh though… ah well time for a snooze before Dot joins me in Carlisle at 3.  But first we will be calling at Crewe, Warrington Bank Quay, Wigan, Preston, Lancaster – this takes me back… last time I was in Lancaster was 48 years ago to visit a boyfriend at Lancaster University.  I seem to remember walking out miles to the sea at Morecambe Bay, would that be right?!


Getting a bit hillier now and more remote after an industrial area.
Penrith next – the last time I was here was maybe 5 yeas ago when visiting Dot in the Lakes, such a beautiful part of England, in a different way to the Cotswolds. "Tis getting very grey and murky up here now… Oh dear the rain is on. Just one stop at Haymarket before Edinburgh finally at 4.20.  Here is Waverley Station in the rain!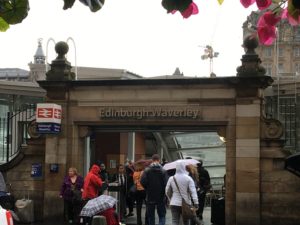 Checked into St Christopher's Hostel – very central, then off to explore The Royal Mile.
We found the Haggis Bus Tour Office and made ourselves known ready for the early start, then off to find food.  Bubba Q fitted the bill! We shared a rack of lamb with coleslaw, salad and chips with a beer each.  Then further exploring until we found a bar for cocktails and whiled the evening away with a good catch-up.