We were up bright and early for our three day Tour of Inverness, Skye and Glencoe.  A comfortable night in St Christopher's although the breakfast left a little to be desired!
We decided to take a taxi to the tour office on the Royal Mile because although it was only a few hundred metres away, it was up a very steep hill. We'd have considered it if it wasn't for our heavy wheelies.
The tour bus left at 8.30 and our driver and guide, Steve, proceeded to describe the city of Edinburgh as we passed through. He continued with his spiel as we headed towards the new Queen's Ferry bridge, where we saw the Queen Elizabeth aircraft carrier docked nearby.  His quite useful local information turned into the gruesome history of Scottish kings and queens. Our morning coffee stop was in the small touristy town of Dunkeld which had a beautiful cathedral by the river.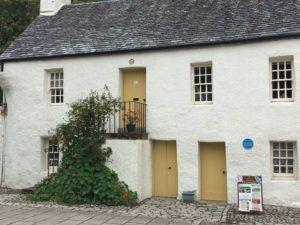 We stopped for lunch in Aviemore where we we found a nice hotel for a starter of Haggis balls and salad.
The main afternoon event was a visit to Tomatin Distillary.  I found it a bit disappointing because it was more like a museum as it was a day off for the workers.  Also that the casks were second hand supplied by America (bourbon) and Spain (sherry).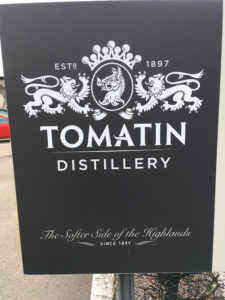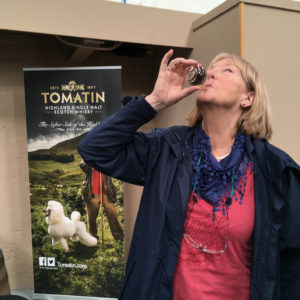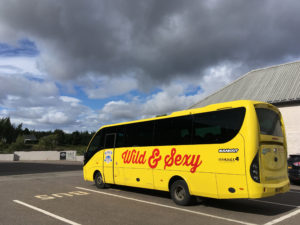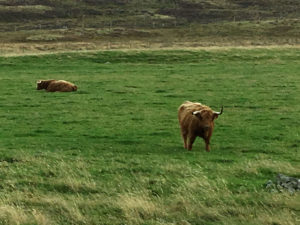 We were further disappointed later in the afternoon to be taken the 'scenic route' away from Loch Ness.  Our itinerary had described stopping at Inverness and driving down the length of Loch Ness.  However, it was a beautiful day and we enjoyed some stunning views, even taking in some Highland cattle and deer.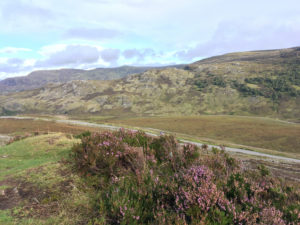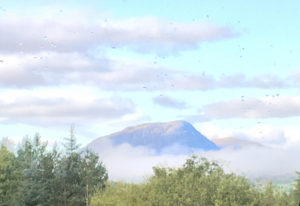 Our hostel for the night was Morag's in St Augustus and the home-made evening meal  Home made chicken breast with haggis and whiskey sauce, green beans, carrots & mash then a relaxing evening with a beer.