Not the best night's sleep. I'm not sure why as the room and beds were comfortable enough. But the glorious view of the day before was now shrouded in mist and rain. 'Twas to be a monochromatic sort of day.  Here is a charcoal sketch done from our bedroom window, weather a far cry from the day before.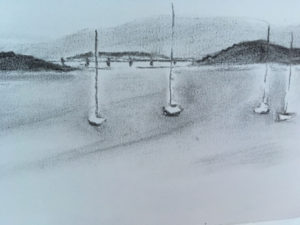 We headed back across the bridge to the mainland towards Fort William in drizzle – Ben Nevis was lost in mist. We crossed Rannock Moor, the largest expanse of nothingness in the UK. Much of the time thereon was spent in the bus as the weather was so awful with short breaks at various viewpoints to stretch our legs. Steve continued to try and entertain us with his barbaric Scottish yarns, many of which included Jacobites or McCleods or McDonalds, never a Campbell!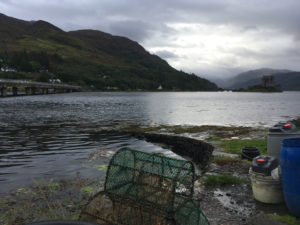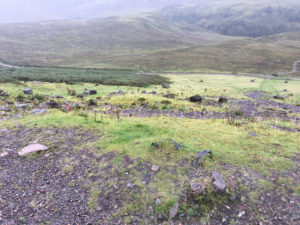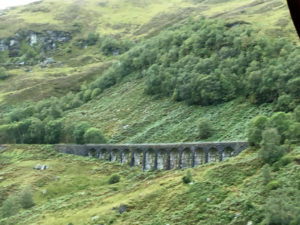 Lunch was taken at the Tyndrum Inn where we chose a healthy salad but then promptly treated ourselves to a bag of liquorice all sorts each for the bus!
We passed through such places as Crainlarich, Glen Ogle, Lochearnhead, The Trossacks, Loch naig was the last Loch – banana shaped, Callender…. but saw little of them in the pouring rain. At one point the sun tried to come out causing a series of dramatic rainbows. Steve told us about the Castle used for films including Game of Thrones (now in Ireland)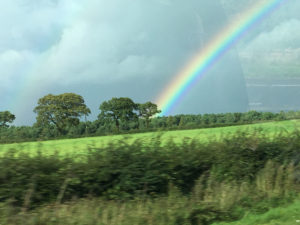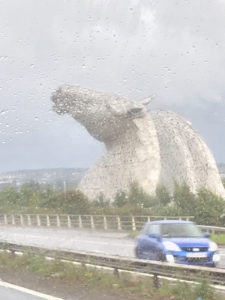 We continued on through Stirling, saw Sculptures of white horses, on through West Lothian and finally back on the M9 motorway to Edinburgh. After saying our goodbyes we took a taxi to our pre-booked Holiday Inn.  What luxury after the hostels!