I hardly slept a wink last night, in fact my sleep app confirmed this.  It rained heavily all night long and somehow I developed a sharp pain between the shoulder blades.
After taking some painkillers, I spent the morning packing and sorting out my clothes into various bags, bearing in mind I still had two more venues before the long haul home.
I also planned my return layover in Beijing which was to be a visit to the Forbidden City, Tiananmen Square and to see pandas.  This all seemed very straightforward and I paid the deposit on line by PayPal.  So let's hope it all works out at 6am in the morning!
Although just about dry, it remained overcast all day in Taupo and finally during the afternoon I decided to take a walk to try and shake off this pain and to get some exercise.   It felt quite autumnal and drizzly.  Even the palm trees were changing colour!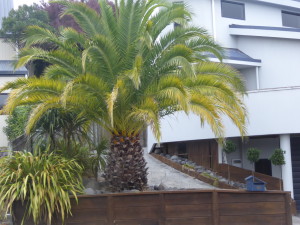 I called in at the shopping mall, as Jessie says they are called!  Actually it comprised one tiny 4Square supermarket, a liquor store and a betting cafe.
I then continued on down to the Lake which was like glass this afternoon, hardly a ripple.  There were some cormorants on the rocks and a few ducks and gulls pottering about at the water's edge.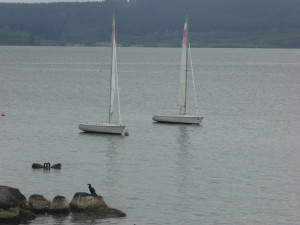 As I wandered along the path round the lake a guy came out of one of the posh waterside residences in his togs.  Obviously about to go in for a swim but I asked him anyway just to strike up a conversation.  This was his holiday cottage (it didn't look like a cottage to me!)
On the way back I took photos of bright things to cheer up my daily blog on such a dull Autumn day.  It was still quite warm – about 20 deg  – so a few summer flowers blooming and a tree laden with walnuts.
This last one is a mail box.
There was a glimmer off late sunshine as we drove down to the town later that evening.
We all had dinner at The Plateau – my shout!  Thanks for allowing me to share your home Leigh and Dan, Jessie and Hunter.
Hunter was away for the weekend.
Then a little night drive around Taupo for a last look at the lights.