Today Cindy dropped me off down town around 11.  I called in at the Ocean Island Hostel to find out the times of the Orca trips but had just missed one and the next would be at 2 so decided to head off to the Victoria Art Gallery.  It didn't look too far on the map and had begun to rain but was probably a good half hour's walk out of town and I was pretty damp when I finally arrived.

However it was definitely worth the effort as there was a excellent exhibition of work by David Blackwood, one of Canada's leading printmakers and most popular artists. He has been telling stories about Newfoundland in the form of epic visual narratives for over 30 years.  As it turned out, this was an appropriate exhibition subjectwise before my search for Orcas!
Also the work of Canadian artist Emily Carr was exhibited showing the development of her style throughout her life.
It was raining more than ever when I came out of the gallery so I planned to take a bus back to town but I seem to be unlucky with buses!   I walked down Yates Street towards town which was the bus route according to the reception in the gallery, and a bus came before I had time to cross the road.  I kept walking towards town but didn't see another bus stop and several buses went by so I just battened down the hatches and walked quickly back to the Orca Centre at the Wharf where I would get my boarding pass. 
Although I loved the adrenalin rush of the open speedboat, I chose to go on the covered boat this time because of the weather and I just couldn't be bothered with all the survival kit we would need to put on.  In the event this proved a good choice because the sea was very rough.  In fact the trip was delayed half an hour because of bad weather.  We eventually got away around 3pm and travelled for about an hour and a half before arriving at the place where the Orcas had last been seen between some islands right up to the north of Vancouver Island towards the passage to Alaska!  Boat engine turned off, we waited quietly for once (they were such a noisy lot of chatterboxes on the boat), cameras at the ready and sure enough we saw a black fin surface in the distance, followed by several more.  The engine was started up and we moved closer (apparently these creatures are not bothered about boats being near them.)   Eventually we got near enough to see a couple breach.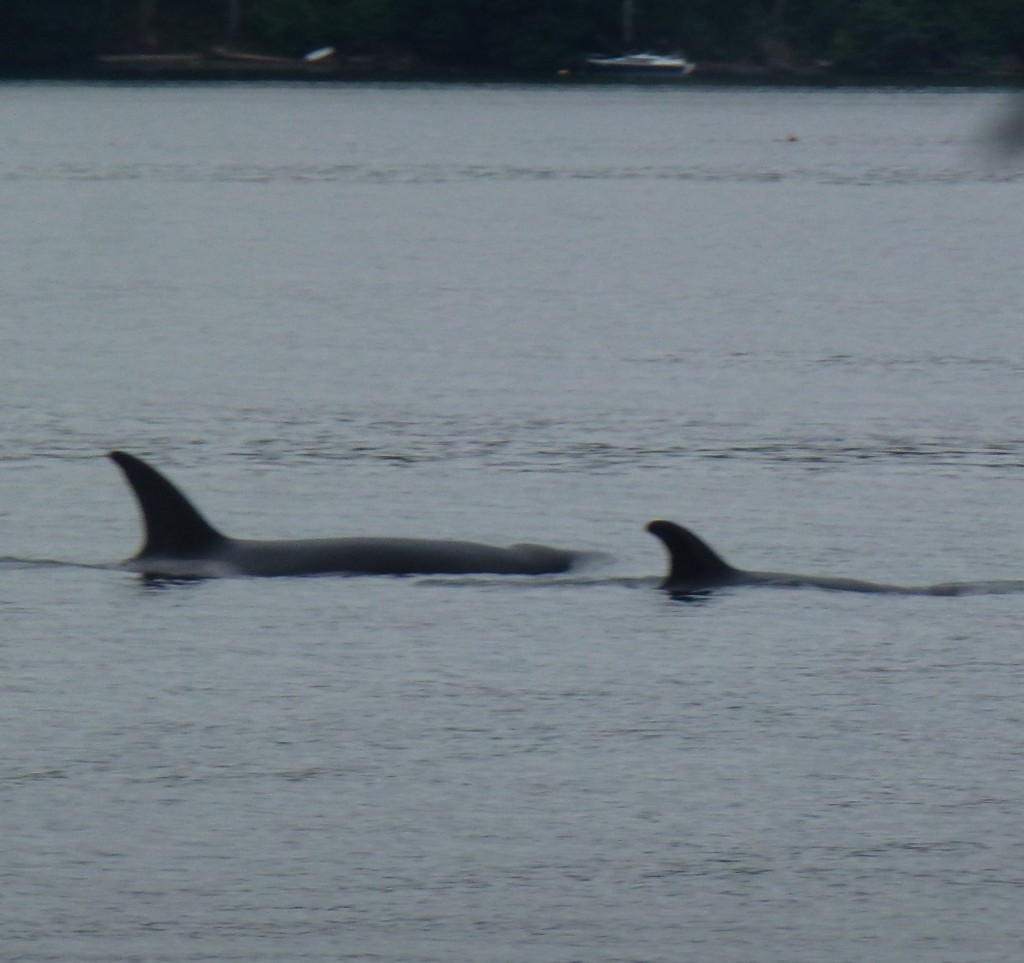 It was so exciting to see these massive black and white killers splash out of the water.  They seemed to divide into 2 pods, one on either side of the boat… all females we were told, as the fin was small and curved – around 7 or 8 in number.  In the male the fin would be straight and very large – up to 6 feet tall!  Mother and baby pictured here.  We got several good sightings all around us.
Our time with the whales was all too short and we had to set off for our rough hour and a half ride back to Victoria…and it WAS rough!  There were cute little floating houses in the harbour, pictured here.
Cindy was waiting for me in the Milestone Restaurant on the wharf where we'd planned to have dinner.  It was a delicious dinner and I chose local salmon and a Pinot Grigio!  Then back to Cindy's for a hot tub (with bubbles) 🙂