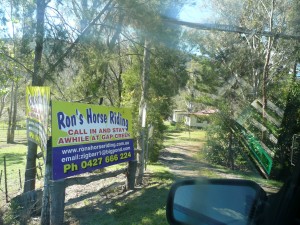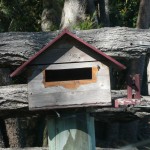 As we turned into Ron's Riding "Ranch", I was delighted by the whole set up…. a timbered archway over his entrance complete with Aussie mailbox, inviting us in to this smallholding nestled on the side of the Great Dividing Range. As we got out of the car an old jack Russell walked up to us rather stiffly with a raspy bark immediately followed by a lollopy bounding puppy. I thought at first it was a German Shepherd, only to be corrected later – Border Collie crossed with Huntaway, which is a New Zealand sheepdog – but she was absolutey adorable. We found our way on to a pretty but very substantial verandah overlooking the mountain range. Wow this is Snowy River country! Kerry, Ron's wife appeared from a door and greeted us warmly.
Ron finally returned from some stock dealing, along with Clarissa, his helping hand, and Kylie left me with them for the afternoon. This was something I had always wanted to do in Australia and here I was at last.
I was invited inside where Ron made himself two huge lamb sandwiches (he obviously hadn't had his lunch yet and it was now 2.45. My booked 2 hour trail ride was to commence at 2.30! No worries mate I thought, this is Oz remember. I was clearly not going to get on a horse much before 3. They were so laid back; the four of us sat round the kitchen table and chatted easily for another half an hour or so. Clarissa, their 17 year old helper but almost daughter had just ridden the cow that they almost bought. Ron had swapped one of his horses. The new one was on trial and he was going to try him out today. Kerry offered me tea but I chose a long squash drink as my mouth was dry in anticipation of the afternoon ahead. They wanted to hear all about England and had never flown in their lives, etc. etc.
Finally Ron, Clarissa and I were heading down the valley in the warm afternoon sunshine…. am I in heaven? My horse was called Big El…."and mine is called Little El", Ron added smiling, although they looked the same size to me. As his horse was new to him today I figured he hadn't really named him yet and went on to chat about Camp Draught and Polo Cross, both huge events in Oz. Clarissa had taken part in both and chatted enthusiastically about them.
Throughout the afternoon the trail took us up and down beautiful bush and forest, over around and through creeks and up high on the mountain. I think I brought out Ron's enthusiasm for nature when I exclaimed at a pair of Lorikeets feeding on Gum flowers, because he then continued to talk about creatures and plants along the way. It is illegal to keep rabbits in Queensland but they have plenty of hares and bandicoots.
At one point we saw a large Goanna curled up asleep in the sun on a log. We brushed passed wild olives, their fruits just forming. He talked about the Black Boys on his land of which there were many of all sizes. They take a very long time to grow even to just a few feet high and these can be hundreds of years old and worth a lot of money. It is illegal to dig them up in Oz although there were many baby seedlings everywhere.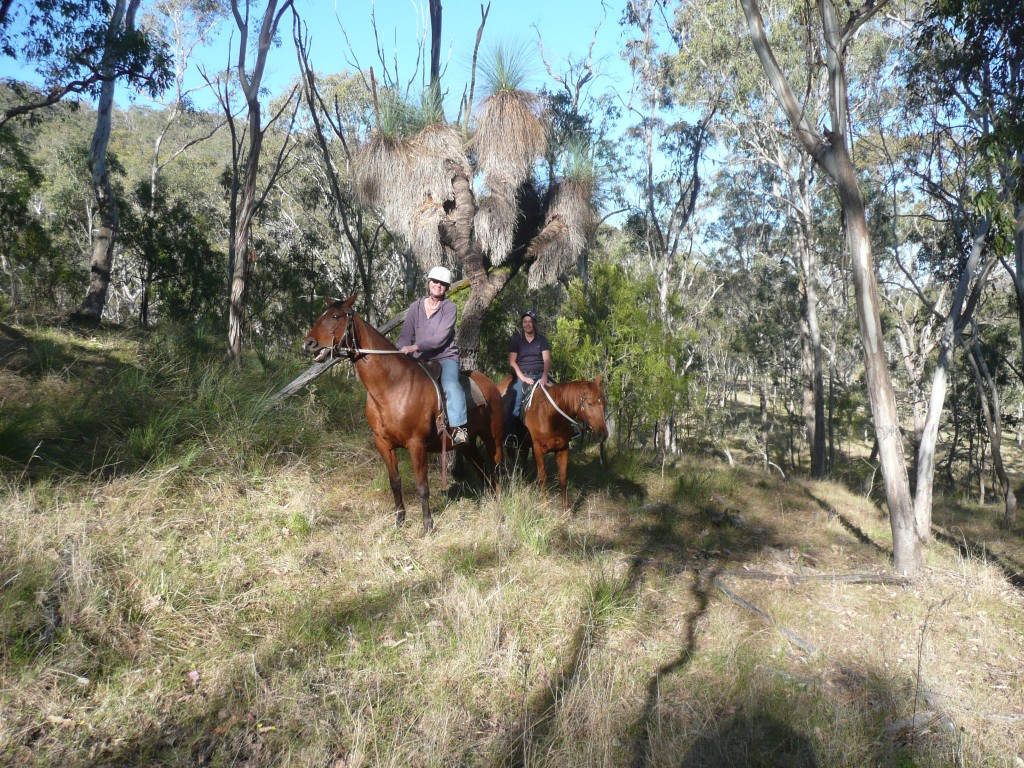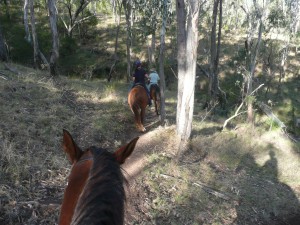 Although I hadn't ridden for some years, I felt as natural as ever in the saddle but I was reminded that I could have a sore bottom in the morning as we accellerated up out of the last creek. When we arrived back at the farm, Ron opened a gate to bring in their Jersey cow. The fairly well grown calf was at the bottom of the field and he ask me to bring him in. Yay, this was my first bit of mustering. The calf was obviously ready to follow it's mother and when it saw me hurtling down the field on my charge, it obliged straight away. But I still had the opportunity of rounding it up and sending it through the gate. Ron was impressed. 🙂
Incidentally, Ron was pleased with his new horse which had been described as a rig… a bit of a playboy! He had behaved himself well on our ride.
By this time Kylie and Ash had arrived back. Kylie was interested in how everything was because she was planning to bring Ash for her first riding lesson here at some point. She needn't have had any worries. We both had a great feeling about Ron & Kerry's place from the start.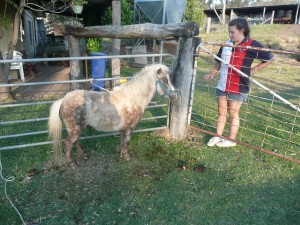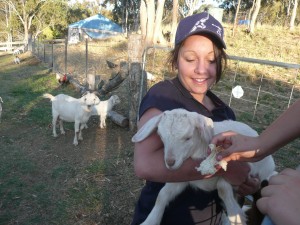 The day was not over. After we turned out the horses, including a cute little shetland stallion which had been separated from the mares for a bit, we were taken to feed the goats, oh and the cutest little kids you ever saw, only a few days old. Mr Billy Goat scruff jumped up at the fence and was taller than me with big horns but he was as friendly and docile as the playful little kids.
Clarissa proceeded to show us her whip cracking skills.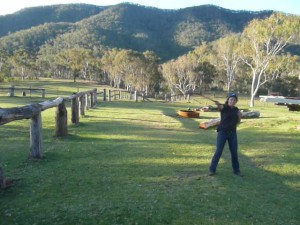 There is definitely a knack to this that takes loads of practice… I just could not make it crack and after a number of attempts I just had to leave it to the expert. We chatted and chatted as the sun dropped rapidly behind the trees in the valley and we finally had to say our goodbyes.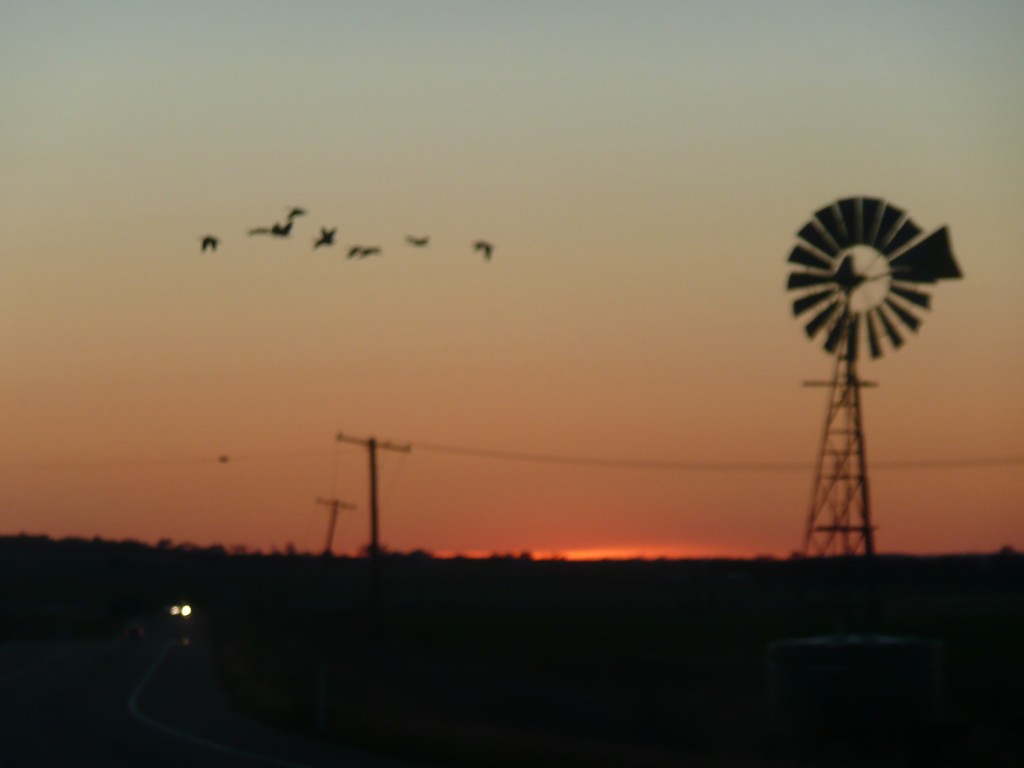 Another perfect day………..