I'm just following the posts of Leigh's daughter in New Zealand, Jessie, who is currently touring Cambodia with her sister.  Wow, some of the images are stunning!  Here is a taste of what's to come for us Gill!  First pic Angkor Wat, or maybe Thom….
Jessie posted her restaurant bill on FB on 24 August.  This is good news for us Gill! And useful to know that we only need US dollars in Cambodia and plenty of singles!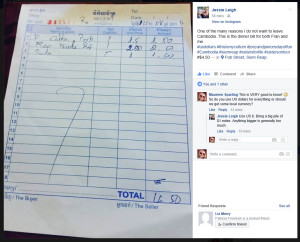 Jessie at the North Gate, loving the moss and trees all over the temple.