Muesli and blueberries for breakfast with Sandra.  Thank you for having me to stay and look forward to see you again before too long.
Next job to fill my trusty car with fuel before returning it to the hire company.  The insurance was pretty high but at least the fuel was cheap and I didn't use much!
arrived for flight with plenty of time to spare.  Good take off, pretty bumpy landing, but arrived at Birmingham International safely.
Now here's something a little different.  The 12.14 train only goes as far as Leamington Spa, then we're put on a bus to Oxford!  Hey ho I like a bit of variety!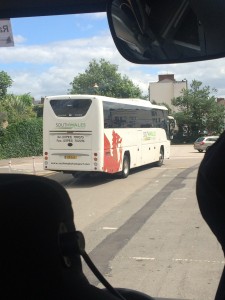 It seems the rail track was up for repairs between Didcot and Reading so not even a train to Charlbury when the bus finally dropped me off in Oxford.  The railway staff were not particularly helpful at this point so I trailed round to the bus station to get the X3 which I just missed.  So a wander round the Gloucester Green market took up some of the hour I had to wait.
I bought some cherries to cheer me up.
 Then along came Vic, a cheerful face from Charlbury and we got the 3.15 bus and chatted all the way home.  Certainly good to see a familiar face.  Finally walked in the door at about 4.30!