Very hot night in the YHA but finally fell asleep with just a sheet over me and didn't wake til 4.30 – pretty good considering there was noisy traffic outside. Two other girls and me sharing and we all had single beds – no bunks, and was only on the first floor so all good!
I have had problems communicating with Lynda. It seems she's been using a phone I didn't recognise, wifi here is rubbish and my cheap NZ phone can't seem to get to grips with messenger or pick up voicemail. So a combination of all this has caused a few communication probs. However, I think we plan to meet for lunch at the Art Gallery after she has seen off her friend at the airport who is travelling home. Will let you know later.
Finally managed to phone Lynda and confirmed meet up. I arrived at the Gallery early for breakfast – poached eggs on toast and a tall black (it didn't look very tall to me – the cup was small and there was very little in it, but it was nice and strong! Was hoping to catch up with the blog over breakfast but the wifi was poor so pic uploads will have to wait. I had about an hour to go round the gallery and looked at some very interesting and diverse contemporary New Zealand art.  Also popped in an Ivan Hitchins here.
I was just contemplating going up to the top floor when who should appear but cousin Lynda and her adopted Chinese daughter, Xli, all the way from the Emerald Isle! Lynda had been in Coromandel at a 60th birthday party. We were lucky to find our paths crossed in Auckland by only a few hours so we chatted and caught up over coffee and lemon tea.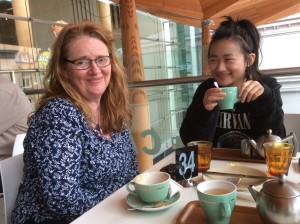 Xli in the meantime was busy producing interesting artwork of her own on a paper table napkin, clearly Maori influenced!
I left them heading for the museum while I returned to the YHA for my bags and caught the Skyline bus to the airport.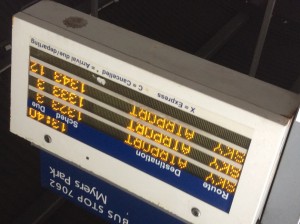 By now it was drizzling and miserable although still warm, about 22 degrees, so good going home weather. As you can see I've had a bit more time to catch up with the blog and waffle as I arrived at the airport way too early and had to wait to check in my bag. Won't be long now so I guess my next paragraph will be done in Beijing.