Goodbye Cinque Terre, it's been wonderful… maybe come back one day….
First things first, an early morning swim.  Not a cloud in the sky today and I can feel the heat in the sun already at around 7.30.  However the sea was still very rough and more for jacuzzi than swimming, which is what I love!  Actually the gritty sand acted as an excellent all over exfoliator.  Next breakfast overlooking the sea.
Just arrived at our 5-bed mixed dorm in Genoa…. phew!  The journey here was a bit of a trial.  We had to queue for about half an hour to get a ticket from the machine (well Dot did while I looked after the bags and grabbed a convenient table for us overlooking the sea in the railway station for a coffee thinking we had time yet to wait for the train.  Eventually Dot came rushing up "we have one minute!" Still got to validate…. yikes.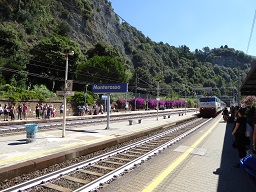 It was like climbing Everest to get our bags and ourselves up on the train.  We got in the first carriage which happened to be first class so needed to find second class only to come across the ticket inspector, who crossly said your number on the ticket is in carriage number 6.  So we had to wheel our bags all the way down the length of 5 carriages going through adjoining double doors en route and clambering over other passengers' baggage left in the gangway.  Eventually we found our seats and relaxed for the remainder of the 1hr and ten minute journey.
This route took us through the Italian Riviera where you could see much affluence.  There were some very grand looking chalets and apartments among mature palm trees stretching up the hillside and overlooking the cobalt blue sea.  The sea was actually shimmering today.  Eventually we arrived in Genoa and hauled the bags back down off the train only to be confronted with a staircase down and under the track and back up again.  There was an escalator but, as ever, it was closed off and not working… c'est la vie!  A guy smiled at us and said "this is why I have a backpack"… I replied " You have two free hands spare then!"
Out into the bustling city we quickly found ourselves a spot of lunch, a toasted ham sandwich and a beer, before finding our Hostel Manena supposedly 15 minutes walk.  We eventually found it but I would say it was more like half an hour.  
We had been dreading the 5-bed shared mixed dorm after our luxury twin guest room, but actually it was fine and very central, and even had aircon.  We took a couple of hours siesta before setting off exploring.
We took ourselves on a mini walking tour of Genoa, first heading towards the nearby quayside to get our bearings.  Immediately we were confronted with the towering bows of an ancient galleon ship, the Neptune.  
The Neptune is in fact a ship replica of a 17th-century Spanish galleon. The ship was built in 1985 for Roman Polanski's film Pirates, where she portrayed the Spanish ship of the same name. An accurate replica above the waterline, but sporting a steel hull and a 400 HP auxiliary engine,
The harbour was full of sailing craft and a raised motorway  ran all the way round it over the road between the city buildings and harbour.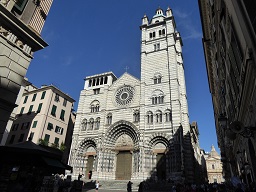 The Cathedral was nearby so we wandered up to look at it and passed one or two other large and highly decorated buildings on the way. 
The old city is divided up into very narrow pedestrianized streets full of delightful stores and workshops selling and making products of all kinds.  We put our heads into an upholsterer, a sweet maker, a picture framer, and any number of delicatessen makers their products all beautifully displayed in the window.  We did think of buying some of these alternative and rather delicious looking items to take back to the hostel for supper…. Maybe tomorrow, as this evening we were in search of the Tapas restaurant recommended by the hostel.
Eventually, we found it tucked away in a rather an unsavory looking street; avoiding looking into doorways here and there along the way.  Once inside we received a friendly welcome and were shown all the different options of tapas available.  These were mainly in the form of cooked pulses and vegetables and little potato pies with sauces.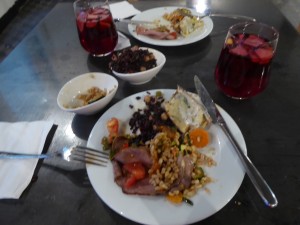 We chose a selection and our free glass of Sangria (we could have had beer but thought we'd continue with the Spanish theme) and both agreed what a delicious meal all for a total of just over 3 euros each!
I checked the Wimbledon news on wifi before retiring to bed. Good, Andy and Nadal and most of the top seeds seem to be through comfortably, I'll be able to watch the closing exciting matches when I get home.  My bed is next to a window on the first floor so plenty of fresh air as temperatures are still in low 20s during the night.  It is a quieter part of town so not too much noise after about 11pm.  Dot is on top of a single and double bunk (like Marie's in Florence but this one didn't need an allen key!) We are sharing with the dorm two other girls and someone else who we have not yet met.  I heard him padding around in the morning packing his stuff for an early start so not sure what time he went to bed (if at all).