All packed up ready for La Spezia.  Marie and I said our goodbyes and I grabbed a cappuccino and a croissant before getting back on the bus.
Neil from Scotland is our driver and Ben from Oz is our guide.  Apparently he was an accountant and becoming Busabout guide has changed his life.  He has very dry humour and should be fun on the bus.  A brief bit of spiel about where we are going today…. many are going all the way back to Nice.  This was where I started my journey.  I can't believe that I am on my last sector with Busabout today.  However, I have added an extra bit on as I shall be meeting Dot in La Spezia and we plan to spend in week in Cinque Terres and Genoa before flying home.  We are unlikely to see Pisa which we pass en route.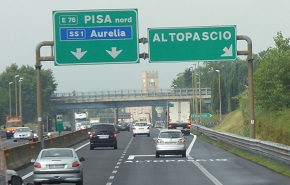 They used to stop there but the prices for parking the bus became restrictive – £180 euros, so now they just stop at a service station.  I wonder if I can get a trip out there from La Spezia?
Massive black black clouds up ahead and lightning flashing already…. This could be serious but definitely forecast for us today.  I'm not surprised as it has been incredibly hot.  The rain has started and the thunder is crashing outside…. ooh errrr scarey or what!  This could be even more exciting than the fireworks last night.
Storms all around and we get off the bus for service station break in pouring rain… so make a dash for it!  Espresso and a ciambella (or doughnut to you!) We have now left Tuscany and are not far from Genoa which is where pesto comes from.  This region is called Liguria.
The rain has stopped but still very black with lightning flashes in the distance.
I am making notes here as Ben tells us about La Spezia and Cinque Terres….. five little villages accessed by train foot or boat between each.  La Spezia is the closest train station.  Seafood very good in the villages, especially calamari.  All have beaches and a little church.  Vernazza prettiest but suffered landslide and is looking for funding to rebuild terraces.  Montorosso is the last and biggest but has a sandy beach where the others are pebble beaches.  Plenty of trains, footpaths and boats.  Can get a card for hikes and a train card.  One direction off and on for up to 6 hrs – 4 euros.   If it's a long train it may be too long for the platform and might stop partway inside a tunnel and you have to get off in tunnel and walk along….. ooh, they don't let us off in Charlbury unless we're in the front carriages.  Anyway, more of all that later…
Ben didn't seem to know much about the Busabout recommended hostel in La Spezia but the coach stopped outside the railway station as stated on the website and Ben very kindly carried my bag up the metal staircase to the station and pointed me in the right direction.  It wasn't difficult just a hundred metres or so down towards the town on the left.  Goodbye B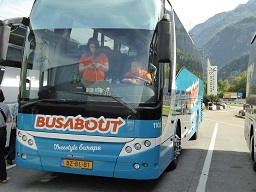 usabout!
Pleasantly surprised by the hostel Gappa Zorba, which is in a central position between the railway station and the seafront, just at the top of the pedestrian way down to the port which contains many trattorias.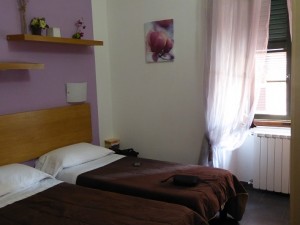 As I had arrived much earlier than expected 10.30 instead of 12.30, I was determined to make good use of my time here.  Dot was not due to arrive from her farmhouse cookery course until around 7.30.  First I made my way down the pedestrian way to the port to investigate going over to one or two of the islands.  Sadly all sailings had been cancelled for the day owing to rough seas.  It all seemed perfectly calm and hot to me although the occasional light gust of wind nearly took my new Italian sunhat, which I'd just purchased on the way down.  I'd better hang on to this one.
Disappointed that my plan was thwarted, I walked over to the tourist information point through some very beautiful gardens.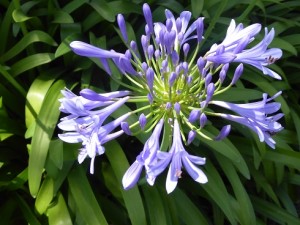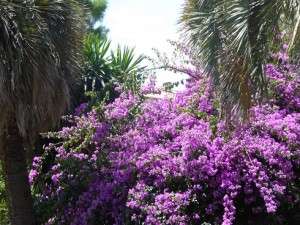 Agapanthus flowering in abundance and I just can't seem to grow these in my garden. I found out about transport to Pisa.  It seems that it would be an hour and ten minutes by train.  I figured I could get there and back with a couple of hours to look around in time for Dot's arrival this evening.
The train journey was relaxing and cool in an air conditioned carriage.  We passed through many stations with huge slabs of granite piled up ready for transit.  I could see areas of granite cut out of the mountainside in the distance.  
There was a Canadian family sitting near me who were also going to Pisa and we agreed that we had indeed arrived at Pisa and found our way to the leaning tower together. However we went our separate ways once there.  The Tower itself can be found in the  Piazza Dei Miracoli, 'the field of Miracles', along with a few other famous structures, such as the Duomo, the Camposanto, and the Baptistery.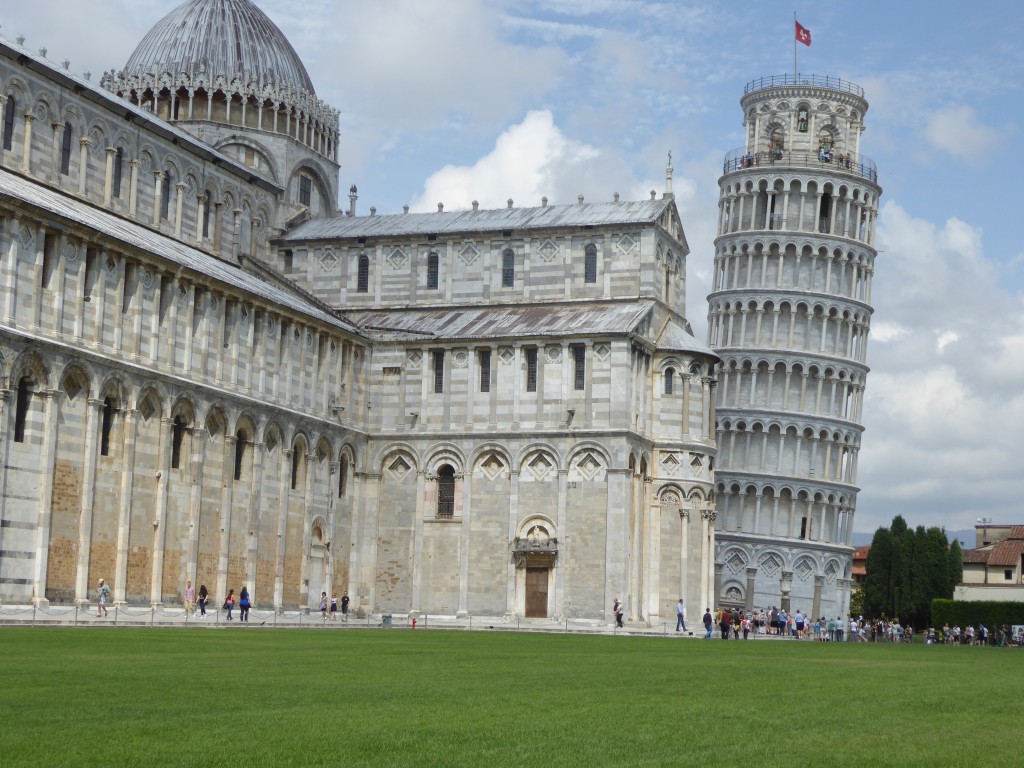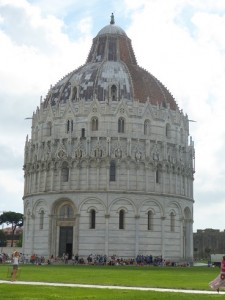 I got a ticket to go into the Monastery and the Cathedral (Duomo), not really interested to climb the 294 steps up the leaning tower.  These were really most impressive, again with so much art history.  
As I walked around the upper level of the Monastery, I heard a wonderful sound…. one of the officials was demonstrating how the sound of his voice reverberated around the dome, creating the most beautiful echo.
I returned in time for Dot arriving.  She actually got a train which changed at Pisa an hour later.  We wandered down the pedestrian area and found a suitable place to eat under awning.  No sooner had we sat down and ordered our fried calamari and salad with antipasti to start, than the heavens opened.  Lucky we were under the awning, although I had to pull my chair in a bit as I felt a light spray on my back. It was quite cosy there eating outside in a rainstorm but keeping dry.