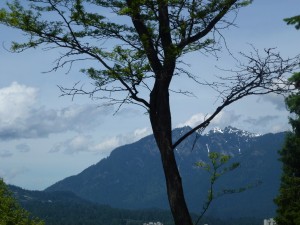 Today I'd planned to go to Granville Island and Stanley Park but how to get about? The Hotel staff are so helpful and friendly and told me about The Big Bus which would take me all over the city… hop on hop off style… perfect! I started with Granville Island which had a special atmosphere all of its own. Very arty with markets and craft stalls.. Also lots of BC salmon.. must try some sometime.  This is octopus…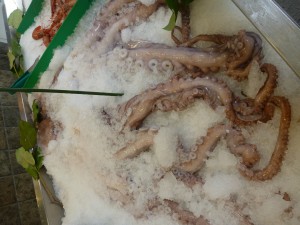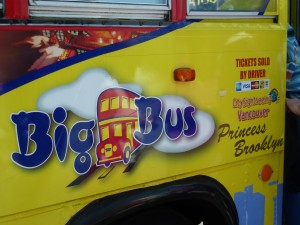 There were buskers singing and playing different instruments beside a harbour full of exceedingly expensive looking yachts. I lingered there a while in the warm sunshine.
After further exploring I came upon the famous Granville Brewery where I sampled several beers and chatted to a couple from Arizona who were about to set off for Alaska.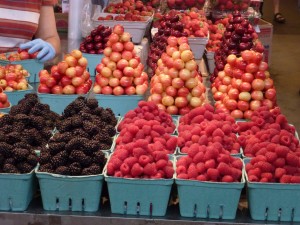 I then headed back to hop back on the Big  Bus. This bus is certainly the best way to get a general feel of the city which is mainly modern with some stunningly designed high rises. The Gas town area has some of the oldest buildings dating from the 1850s and brick built. I decided to get off next in Chinatown where I wandered around the beautiful gardens. The next stop would be Stanley Park, although many points of interested were highlighted to us by our cheerful driver, including Vancouver Art Gallery and Christchurch Cathedral (which was very small). May look at those tomorrow as I have a 2 day Big Bus ticket.

Anyway on to Stanley Park which is lush with growth… many tall cedar trees and Acers. Also beautiful formal gardens. I took the opportunity of visiting the Vancouver Aquarium which was situated in the park and I have to say it is the best one I have ever been to. I have always been intrigued by the creatures of the sea, both large and small, but this was something else and the highlight of my day.  There were characterful sea otters and big white Beluga whales as well as the most beautiful and mesmerizing jelly fish on the planet all housed in very well designed natural areas.


It has been a full and interesting day… now for some dinner.