Just a quick update on last night:  I decided to eat in the hotel as it was my last night there and didn't realize the prices until I had sat down and was asked what I'd like to drink….shock and horror!  Anyway it was a delicious meal of Seafood Risotto washed down with the best Pino Grigio.  A fitting way to say goodbye to luxury and hello to backpacking!  I also took a night shot from my balcony in the hotel.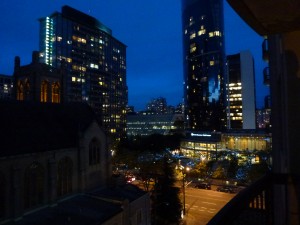 Wet and quite a few degrees cooler this morning. I'm packing up two bags before checking out of my luxury hotel; one to leave locked up on Vancouver and the other is my backpack for the Moose Bus tomorrow. Will leave them at the hotel for the day.
Hopped back on the Big Bus (my ticket is still good!) and hop off at the Vancouver Art Gallery which used to be the Court House, a beautiful bit of architecture but sadly depleted in its exhibits, partly closed off for refurbishment.  However there were two exhibitions one by Spiegelman, a comic artist with a serious side in his Maus period… too serious for my liking.  Then there was The Grand Hotel, an exhibition about hotels and travel around the world… quite interesting but not really what I came to see.  There was a James Hart permanent wood engraving under construction on the top floor which depicted local creatures… amazing.
I then braved the cold to cross several blocks to visit Christchurch Cathedral.  Very old and dwarfed by the high rises around it, it had dark wood roof timbers but the organ looked to have been refurbished recently and filled the whole back upper gallery.  As well as the traditional beautiful stained glass windows, there was a set of modern stained glass – lovely.
Next I walked straight down the main street to the Bill Reid Gallery where I saw West Coast Tribal Art and wood carving as well as  painting by Lyle Wilson, very graphic. and mainly depicting salmon and ravens – loved it!
I then stopped for a bite to eat at the Garden Delhi just next door.  They had light bites at a reasonable price, so a Ceasar Salad went down very well.  As I made my way down to the harbour to explore Canada Place a little more, I came across two more Galleries in Howe Street which were much more traditional and exhibited some very fine works of modern art.  I walked the length of a massive cruiser liner berthed up, probably preparing for a voyage to Alaska, then as I returned to the road, wouldn't you know it, a Big Bus drew up.  I took a trip round the city one more time before getting off at my hotel to collect my bags and make my way down to the Samesun Hostel.
All my reservations that had built up during the day were gone in a flash as I walked up to the desk and signed in, with all the kids hanging out in different areas, either chatting excitedly or on their netbooks or phones…. or just sitting on the stairs (why do they do that?!)  I felt surprisingly quite at home… was just like in NZ.  I checked in and was given my key, door and internet code and was just about to lug my bags up 3 floors (I'd asked for a quiet room) when a very nice young man saw this old woman struggling and offered to carry the big one for me.   I then found the Moose Bus office on the 2nd floor and they were so helpful and encouraging.  I even got a discount for leaving off part of the trip where I shall be meeting Cindy.  I also met Mary the driver who is quite a character.  It's all going to be fine!  Bring it on!!!!
It is a beautiful evening and as hot as ever and I have just walked down towards the beach to book two nights in the International Hostel for my return from the Rockies, a new part of the city for me.  On the way back I was feeling a bit peckish again and sat outside a street cafe with a Donair… no this is not a person or even a bloke, it is a giant wrap filled with all sorts of goodies – salad, meat , spices, yoghurt.  It looked the smallest thing on the menu board but like all dishes in this city when they arrive they are just huge and I had to leave half of it – unlike me!
Anyway, I thought I should just update the blog now as I have an early start on the Moose Bus.  I'm not sure when I shall be able to update again although there shouldn't be a problem as Wifi seems to be freely available everywhere… it's just putting the pics on that is is a problem as I need a computer!  Next stop Kelowna! (with the kids !)