22 deg and feeling hot today but might be cooler at high altitude. I walked down to Canada Place to get the 10am shuttle but it was full. Assured of a place on the next one, I sauntered leisurely round the stunningly modern and shiny new harbour where the little seaplanes were landing and taking off for Vancouver island.  Lovely relaxed atmosphere reminding me of Sydney Harbour but much quieter
with loads of open space with glass buildings on one side and sea on the other.
I  was finally on the shuttle bus sailing past The Lost Lagoon where I saw my first Bald Eagle in the wild.  It flew effortlessly low over the bus and into the lagoon.
Soon I found myself ascending hundreds of feet above Spruce trees on the way up Grouse Mountain.  Of course you could see for miles all the way down the mountain to the various water inlets, the clusters of high rises in miniature that was the city and the various islands nearby.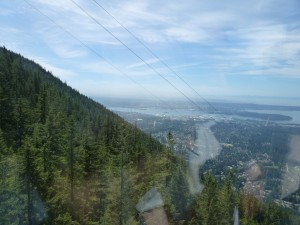 When we got to the top there were several events for us.  But first I could not resist a cinnamon and apple pancake freshly made as I waited… hmmm scrumptious… if a little larger than I had expected or needed!
I then settled on a wooden bench to watch a lumberjack demo… quite impressive but just a little touristy.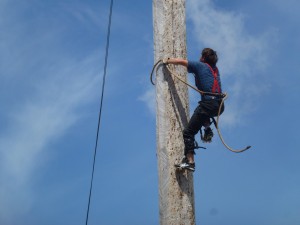 Then time to wander about this beautiful place oh so high up with plenty of deep snow all around us, although the sun was very hot.  I couldn't understand why it hadn't melted!
The views of snow capped mountains surrounded by forests of spruce brought on that desire to paint- oh why did I leave my paints in the hotel room  – doh! Will have to do it from photos.  My first sighting of a
Grizzly bear was not the best. He was curled up asleep among the trees. Will see how good my zoom lens is!   Silly me also left my binoculars behind too.
At an allotted time we were able to watch a flight display of several different species of birds of prey, including an owl, juvenile Bald Eagle, vulture and Peregrine Falcon… I was delighted to see these beautiful creatures in flight and close up.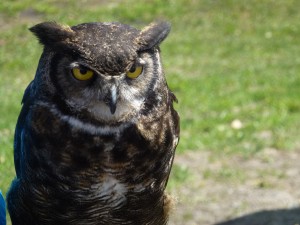 To round off the afternoon I treated myself to some fries and a Granville beer. Another great day out… I chose today for the mountain as rain is forecast for tomorrow which I have saved for indoor stuff like galleries.