The day starts with meditation at 7.15. A more traditional approach sitting cross-legged, straight-backed arms outwards, hands facing upwards on knees, incense burning and very peaceful and focused for half an hour. This was followed soon afterwards by some very physical Hatha Yoga. This involved a lot of twisting and stretching. I'm sure this was helping my lower back quite a bit but didn't want to push it too far so took small breaks.
This overran a little making us late for breakfast, which I had to rush a bit ready for my deep tissue appointment with Juan Carlos. I had heard great things about Juan, not only from the staff but also from people who had stayed at Crisalida in previous years and had returned. He certainly did not disappoint! I told him about the pain I was getting through my arm and into my neck and he said he would concentrate on that. After much deep massage into all parts of my back shoulders and arms, he focused on key areas and somehow was able to pinpoint the pain in my arm being connected to a misalignment of my hip. Sometimes it felt like he was just holding my shoulder gently while touching my hip or pressing into the painful area (without causing pain) while massaging the shoulder blade. Other times he pulled his fingers across my collar bones and up the back of my neck into my head which was just such a wonderful feeling. I won't go into any more detail suffice to say he was thorough and masterful in his chiropractic technique and I said 'I'd like to take you home with me!' Let's hope it has had the required effect….. the treatment I mean!
The afternoon was spent just relaxing in the sun, a bit of reading and a swim in the pool. I joined a Juicing demonstration which was quite interesting before getting ready for our 'escape'.
We managed to get a bus into the old town of Altea, just along the coast from Albir.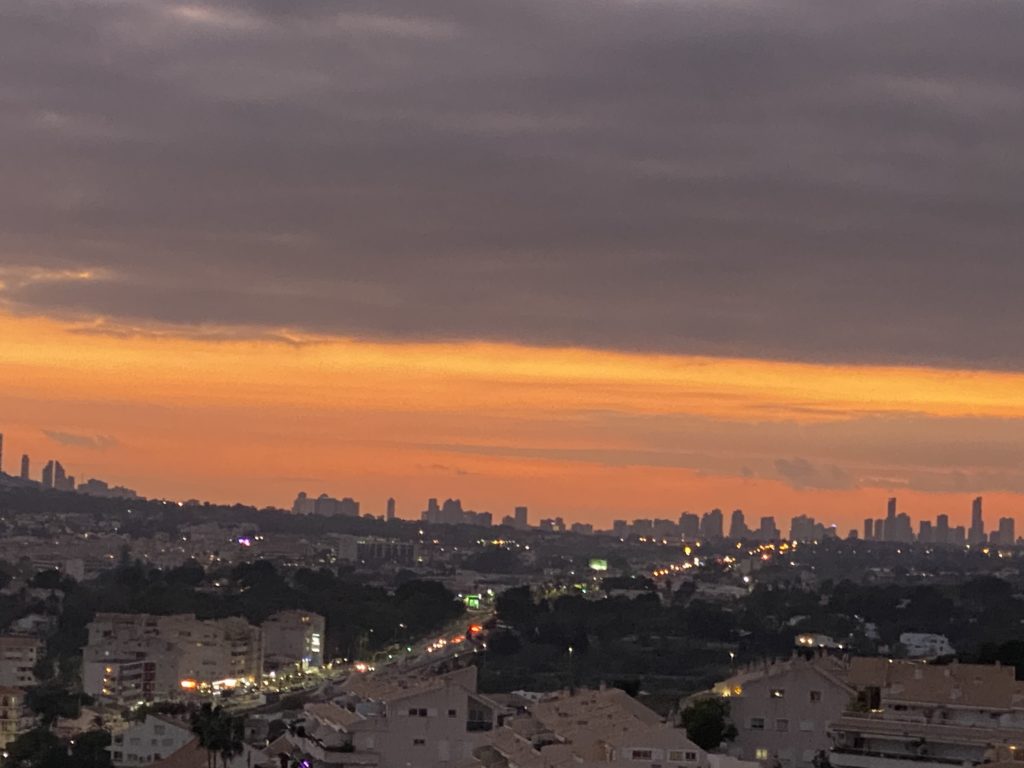 It was just about dusk (6pm) and the light in the sky was a watercolour in the making. I picked out the skyline of high rises which was now Benidorm in the distance. We climbed up to  the Church of Our Lady of Consolation of Altea in the pretty Spanish old town with it's steep winding narrow cobbled streets.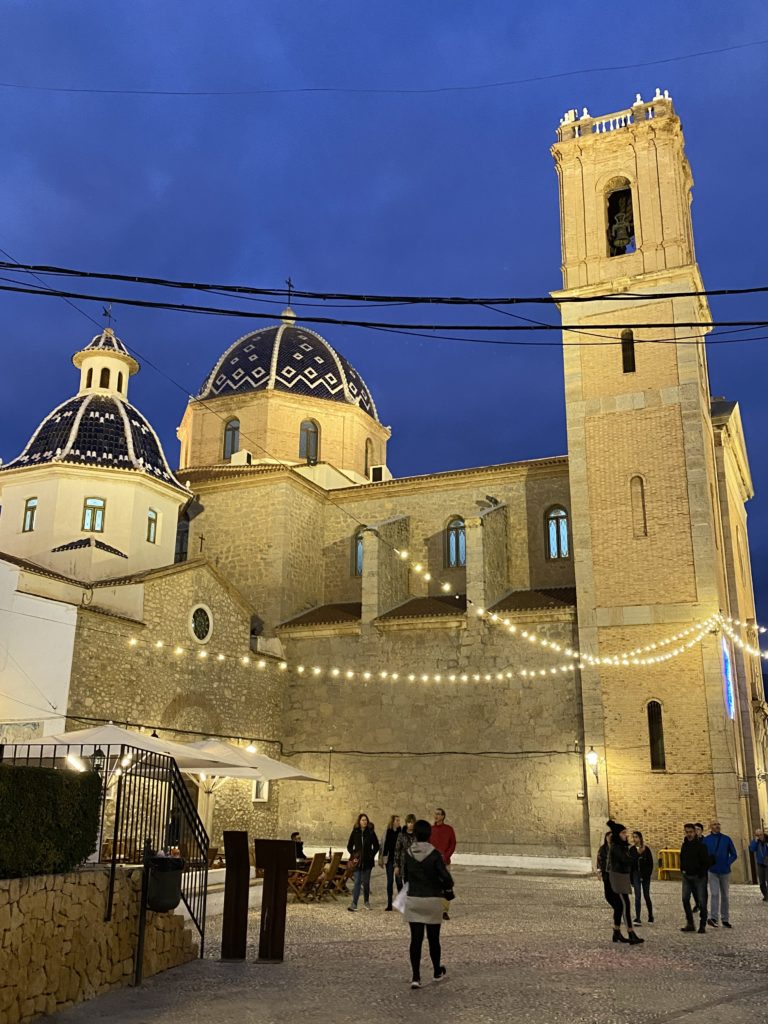 In one of these streets we found a delightful little bistro run by a gay couple (one from Leeds, the other Romanian). Here we settled for our tapas and wine!