Our train home was just after 9am on the tenth of September and we were able to take the tram from just across the road from our hotel – so convenient.
Unfortunately Dot lost her cards in the kafuffle of trying to make the ticket machine work.  A kindly person contacted her later, however, to say they'd found them and would post them to her home.
Our train was on time from Waverly Station and Dot got off in Carlisle leaving me to get out my paints as I had a few hours ahead of me.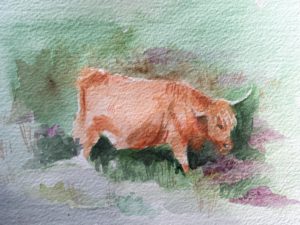 I had to make a couple of changes to my planned journey as the train was late getting into Wolverhampton because of cows on the track and missed the connection.  However I was only an hour late getting to Coventry from where Kerrie kindly collected me.
Home at last….