Reasonably good night in the Bloom Hotel. Breakfast on the top floor with an outside area and view of sorts over the city.
About three and a half hours to the Cambodian border with a comfort stop. Passing through was fairly straightforward with the local guide collecting our completed immmigration and visa forms and passports so that we could go through quickly. It cost 800 dongs or $35 US. We did NOT need passport style photos as had been instructed by Trailfinders before we left.
We then stopped at the duty free area for half an hour for lunch. I had chicken and rice. Here we were all desperately trying to get rid of dongs as the currency changed to riels, although they use mainly dollars in Cambodia.
I noticed lots of water across the land as we entered the country. I don't think this was because of recent rains as many of the houses appeared to be built on stilts.
After a further comfort stop, we finally Arrived Phnom Penh – Phnom means hill, Penh is the person who founded it. The local guide started telling us about how teachers and doctors and any educated or intellectual people were separated from farmers. They were told they would be sent for further training but were sent instead to prisons then out to killing fields. They had to dig their own graves, were killed with a hammer or sticks because bullets were expensive.
Communism meant people were not allowed to go to school, choose a partner, or get married, only be a farmer. King Polpot who was defeated in 1979 killed intellectual people. Started to have elections in 1998 and the new president still rules today – liberation day. Current president corrupt – city of heaven and hell – rich and poor. King was dishonest so many were lost in war. These are just a few notes for now – more detail tomorrow when we go to the Killing Fields.
Checked into nice hotel with pool but half an hour walk to centre. Our room is nice and with a balcony and view of the city.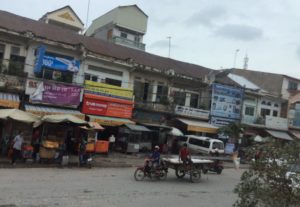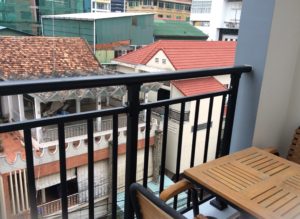 We followed Rouz down to the restaurant Kabbas – half hour walk. It was run by local people who we would be supporting. I chose a delicious Amok curry which was heavily flavoured with lemon grass and a fresh lime juice. Afterwards they wanted a drawing recommending the place which they put up on the wall with hundreds of others.