We woke to find ourselves out in the countryside, Paddy fields on one side, a river on the other and a heavy mist hanging over the rocky outcrops…. perfect painting scenery! Indu had everything with her for travel including a kettle, so our little group of 4 including Jack and Gill had coffee with Coffeemate, to go with the pain au chocolate bought at the bakery the evening before for this purpose.
The morning light revealed rural farmland, occasional cattle, egrets, and memorial stones, then a river on one side and rocky outcrops on the other with early morning mist hanging about them. We enjoyed the scenery for a few hours before finally arriving in Hue station. Our new driver took us to The Gold Hotel – large and comfortable with a pool.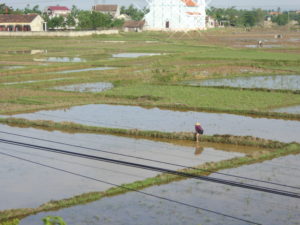 No sooner had we arrived than Quan took us to a nearby restaurant to sample Hue specialities and Beer. The pancakes were delicious! Then back to the hotel for a quick swim before our planned rickshaw rides out of the city to a small village. It felt very odd being peddled along individually and quite vulnerable although we soon got used to it and chatted merrily with our drivers although I don't think they knew much English. We stopped to photograph some cattle with huge horns and then masses of ducks. There were many very small children along the way that delighted in waving and saying hello to these silly tourists – sin chau sin chau!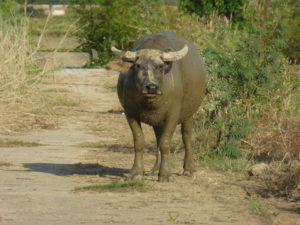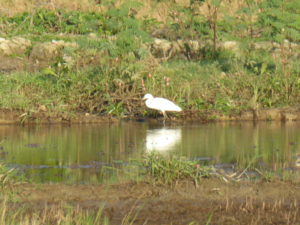 Quan showed us a place that had been struck by typhoons many times and the water level by the river had reached 4.2 meters. Many of the locals had lost everything.
As dusk fell we peddled back to the city, passing field many workers making their way home on their bicycles.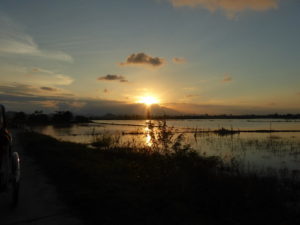 The sunset was beautiful then we hit the rush hour in the city. Wow, pretty scary in a rickshaw but they clearly had as much right of way as any other vehicle and gallantly peddled right across a dual carriageway with vehicular coming from all directions. No one waits for anyone, you just go purposefully forward and somehow survive!
We managed to get back to the hotel then out to supper with a local family in the evening…. I'm running out of time here so just making notes… all the family lived in a very small and basic house down a dark back street. We took our shoes off before entering.
Delicious meal brought including pumpkin soup, the best spring rolls ever, rice, catfish, pork, morning glory, which is like spinach, a type of quiche and beers. The children entertained us afterwards, and we finally said our goodbyes feeling quite humbled.