The day started off bright, but as we sat chatting over breakfast, the heavens opened!  Margaret had surprised me with a full Ulster fry – delish!  I have had such a splendid time in Ballymoney and will be sorry to leave.
Twas to be the big party this evening of sister's Jennifer and Linda – two more of my cousins who were at the other end of the Antrim Coast.  So rather than take a short-cut inland, I decided to follow the coast road.  I can never get enough of the stunning views on this route 'of outstanding' beauty'.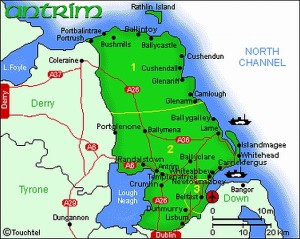 Starting at Portrush (world famous for it's golf),  I passed through, sometimes stopping briefly at places like Port Stewart, Whiterocks, Whiteparks Bay,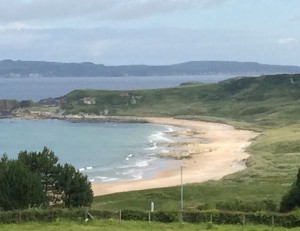 Bushmills, famous for distillery, Giant's Causeway (hexagonal stones) – I thought I might go down but way too many tourists and I really didn't have enough time.  By now it was very warm and the sun shone brightly again.  I stopped briefly at the viewpoint for Dunseverick Castle where there were wild Canterbury Bells. Onwards to pretty Ballintoy Harbour, where I decided to stop for lunch at the Red Door Cottage – seafood chowder with Irish Wheaten.
Then onward to Cushiondunn and Cushiondall? Then Glenarm, Carnlough, passing the turn to Cairncastle where I'd spent many a holiday with cousin Irene, who now lived in France.  I would hopefully visit her daughter, Pam, before I leave.  Then on through Ballygally, where I turned off towards Glenoe to cousin Christine, where I would be staying tonight.  We planned to go to the party together.
After catching up, we got ourselves ready.  Christine wanted to take me to Billy Andy's first for a drink and some Irish music – fiddle-e-dee! This was fun as we chatted to the guys, – one had a friend in Banbury hospital who'd slipped at the reception of a Charlbury wedding I had sung in the choir for – small world.  Anyway, this meant no escaping having to sing along with the various assortment of musical instruments.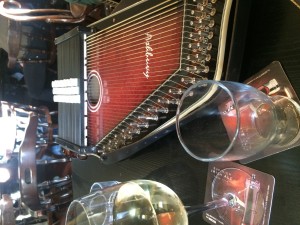 After an hour or so, John picked us up for the party at Knockagh Lodge.  This was already in full swing and it was great to see all the other Irish cousins.  Jennifer and Linda bedecked in garlands came up to welcome us, then I saw Sandra and Andy, Shirley and Ian, Jim and Rosemary, with Gemma, Raymond and Kay…. and after bubbly and chats there was buffet food and then some serious bopping on the dance floor.  Christine has so much energy!  There was a birthday quiz, speeches, cake, balloons and a great time had by all until John brought our carriage to the door at around 1am.