My room at Paradiso Backpacker's might have been expensive (as the last one available) but it is very comfortable and quiet.  It is actually a small apartment with a double bed, kitchenette and little private garden area with table and chairs.  Also plenty of power sockets for each device, no sharing between 6 – never had such luxury in a hostel!  Breakfast was included, as was a pack of noodles and soup for dinner if I so desired.
After having my breakfast of cereals, toast and marmalade and coffee by the pool, I set off for the information centre – iSight they are called over here.  I've come to rely on them because they are so informative, helpful and friendly and will book up everything for you and hand it over in a neat little package.  Not that I ever need the package, because my name is on a list to be ticked off when I arrive everywhere I have booked.
It was a beautiful morning, promising to be quite hot, so I was glad to get back into cut-offs and tee shirt – even sun hat and shades!  I booked accommodation at the Fat Cod in Picton and the Interislander… just the Naked Bus to Picton which I would have to book on line.  Then off to explore armed with a walking tour of the city.
First I headed straight up the main artery, Trafalgar Street, to the cathedral which stood tall on a hill at the end.  It appeared to have 6 bells in an open concrete tower, a reconstructed tower after a wooden one had been destroyed in a fire.  The gardens around the cathedral were laid out beautifully and the inside of the building was light and welcoming.  A feature was a rosary stained glass window in a modern design.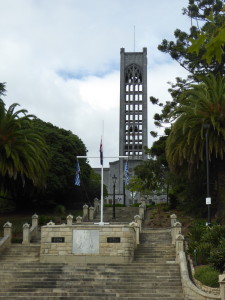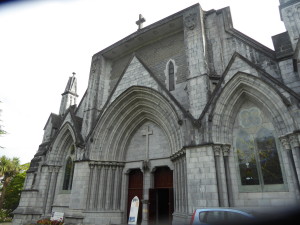 My map then led me to South Street, a quaint little street of pretty little old cottages with roofed verandas and troughs of flowers.  One of them was named Peppercorn Cottage.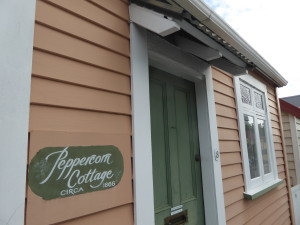 There was a vast variety of pottery for sale in one, and some old China in another, some I recognised as a Royal Albert tea set priced tagged at $650.  I'm sure we couldn't get anything like that amount if we tried to sell it in the UK!  Marie would love this little treasure trove for her painting.
Quite a pull up a hill to the next one on the map, Fairfield House Gardens.  I walked through to the next place, admiring the flowers on the way.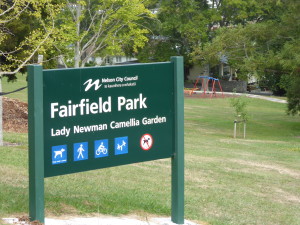 Melrose House had a cafe and I was ready for a glass of ginger beer.  I sat on the wooden verandah of an old and rather beautiful white painted house, surrounded by yellow roses.  In fact my ginger beer arrived with a yellow rose in it and a straw!

Back down the hill but over to the right I found myself at Queen's Gardens.  Formal gardens arranged around a fountain feature but with the river running by with little ornate bridges and a summer house. Plenty of ducks.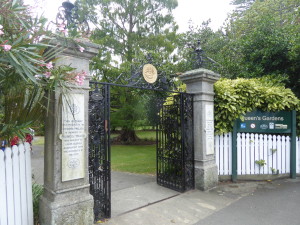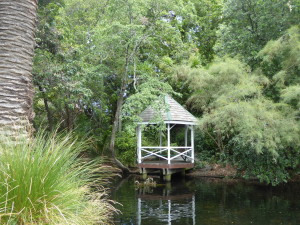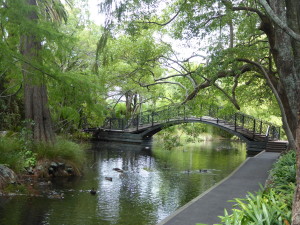 On now to the botanical reserve.  This included Sir Stanley Whitehead Walkway – for the fit and agile, my listing said.  I decided I'd done enough for one day and texted Alannah as we had planned to meet up for lunch.  She said this was good timing and was pleased to get away from the computer.
Alannah picked me up in her car and took me on a little tiki tour, first to a favourite spot of hers where a stream flowed gently over some rocks.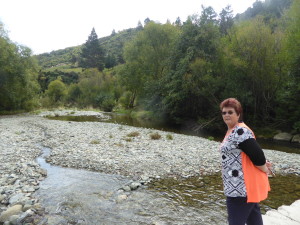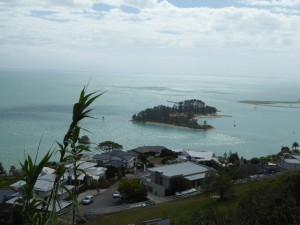 Then up high where we got a stunning view over Tasman Bay and she pointed out various landmarks.  It was hot up there and the sea was that wonderful turquoise behind the flax and toitois.  She then found us a nice little restaurant by the harbour where we sat outside enjoying the best seafood chowder ever.
She then dropped me off back in town as she had some shopping to do and I wandered slowly back to the hostel to get sorted for the next part of my adventure.
Noodles and a fresh beetroot salad from the organic green grocers around the corner was enough for supper while preparing for the next leg of my trip.
….will add more pics later…. Internet slow at Fat Cod!  Off for a swim…