Good morning Little Bay…. how long has it been?  Nearly five years. Really??  I got about 4 hours sleep then was wakened by the sound of the waves gently washing in over the sand outside the decking doors.  I drew back the curtains to this beautiful scene of the dawn breaking.
After breakfast with Mary on the deck I took a dip in the deep blue ocean…. heaven – then languished in the warm sunshine on the beach to dry off.  This was followed by further playing in the waves with Hunter later in the morning.
Malibu cocktails all round then Hunter and Jessie prepared a delicious chicken salad lunch.  Then just chilling out in the afternoon sunshine.  This is the life!!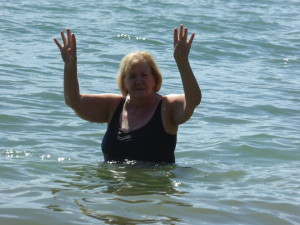 Leigh, Mary Hunter and I wandered over to the tiny bay beyond the rocks to swim later in the afternoon then back for a shower before the Yardarm… various interesting cocktails!  Jessie and Hunter made delicious nachos for dinner