We watched several hot air balloons pass over us sillouetted against the pink morning light as we headed for the airport.  (I'm rather proud of this photo which was taken from a moving vehicle, and includes not only the oxen which was the subject of the photo, but also hot air balloons and a temple, I understand there was even a pig inside the cart, but couldn't stretch my luck to tha!) Saying our goodbyes to Kie Soe, we were warned that our flight will detour via Heho.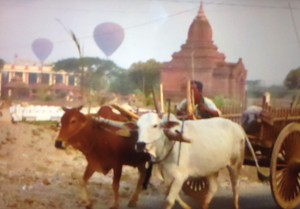 Our flight finally turned in over the Bay of Begal, clear turquoise blue, then almost touched the white sandy beach which was to be our last destination before returning to Yangon in a couple of days' time.
A taxi was waiting to take us to Sandoway Residences and wow, what a sight to behold when we arrived!! We were greeted with an ice cold damp flanel, to refresh ourselves, and a cool fruit juice, under the shade of palm trees, before being shown our apartment ON THE BEACH. The door opened into a room like a barn with every amenity we could wish for plus a full wall length view of the ocean and our own balcony and area of beach just outside with our very own sun beds and canework sunshade. Of course, we dumped our stuff, jumped straight into our swimmers and made for the warm clear sea. After lingering a while in the buoyant waters, we returned to our sunbeds to dry off and the next thing we found ourselves sipping coconut juice through a straw and then the white flesh was skillfully chopped up for us to eat, by a young Burmese girl who carried varieties of fruit in a cane tray on her head!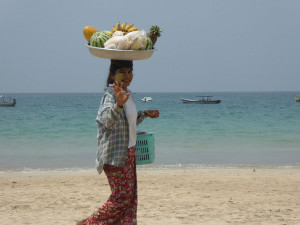 In the shade of Palm trees, white sand between the toes, eyes closing listening to the sound of the ocean and no tourists… just a few local people as it was end of season – had I died and gone to heaven?!
A little while late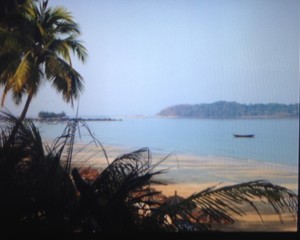 r we found a comfortable beach restaurant for lunch – avocado salad and some delicious prawn concoction with beers. So good, It was definitely going to be seafood for the next few days!
The afternoon was spent just relaxing, swimming and exploring along the beautiful quiet curved bay.
In the evening Patricia wanted to seek out a beach awning type restaurant at the other end of the beach made known to her by friends, about a 2 mile
walk.  There was in fact a whole row of these little family run food outlets and we first called in at one of these along the way with Happy Hour for Pinocolado!  The choice of restaurant we made for dinner was run by a lovely family – grandfather, daughter and son in law (not sure which way round) and 2 delightful toddlers, one of which clearly took to me and I asked the parents if I could take him home back to England. I don't think they were very keen! We walked back along the beach in the dark, passing the little stone carved mermaid on the rocks looking out to sea.