Today we were collected by our guide at 8am after early wake up call … loud singing from speakers around the hotel.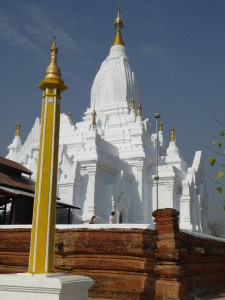 An early start before the 40 Degree heat of the day,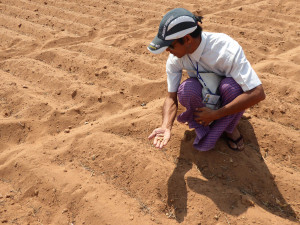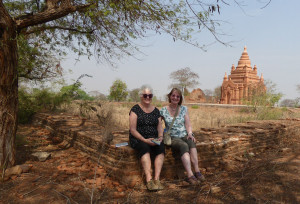 we took a walk through the desert and besides the numerous ancient stupas, we delighted in seeing an owlet up in the tree and a huge kingfisher, by our standards, on a wire.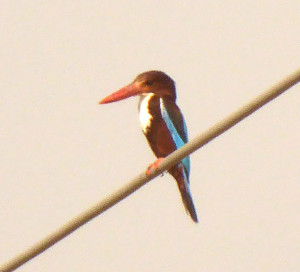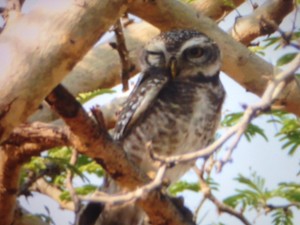 I got some super photos of these birds which I will post up when I get home as they are on my high zoom camera. We then drove out to a gold stupa beside the River with a spectacular view up and down the river, then an early lunch in a small outdoor restaurant called Queen. I chose a delicious coconut milk and we shared a selection of items including watercress salads avocado salad and spring rolls with spiced dip.
We then returned to the hotel for siesta because of the intense heat, even hotter than the day before. We spent some time in the gardens by the pool with a swim or two before the sun beds started filling with other guests. Then we returned to the cool of our room to rest.  What a beautiful surprise in the form of a flower decoration on each of our beds. 
Later I decided must have one of the special massages on offer at the hotel and wow, that sorted out my knots! They certainly mean business in this part of the world.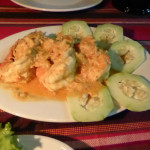 Our driver and guide appeared at 5 as agreed and took us to a much quieter location to watch the last of the hot red sun disappear behind the Bagan landscape. We were then dropped off at The Coconut Rice restaurant where we enjoyed a more adventurous dinner and walked back to our hotel nearby afterwards.
Packed and bed for early start in the morning… off to the coast!