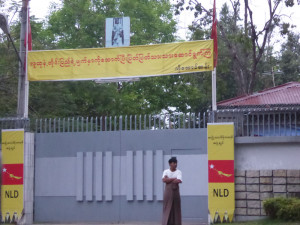 Another 6 hours in the air and we finally arrived in Yangon to be met by Nye, our guide, and his driver. He showed us some of the sights of the city.  As we passed by the residence of Aung San Suu Kie, Nye started to talk about the difference she had made in the country and we told him we had watched the film The Lady before coming.
Eventually we pulled in for some samosas and green tea in a bustling outdoor restaurant.
He then showed us several pagodas and temples, including The Chauk Htat Gyi Pagoda in downtown Yangon which is known for its 65 meters long and 16 meters high Reclining Buddha image. 
We then visited the lake with the golden floating restaurant and park around it, then the 'friendly river' where local Burmese are taken across the river in sampans with motors.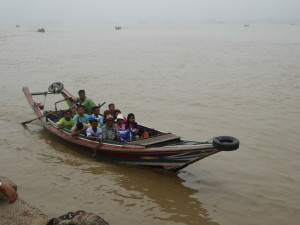 Finally we were taken on a walking tour of the city centre where we saw street vendors selling unusual foods and almost anything else
. We passed grand colonial buildings in art deco style and some very dilapidated ones that had clearly experienced a former splendour.
By 10 the sun was very hot and we decided to return to our hotel, The Winner, for a much longed for shower and siesta.
In the evening we were collected by our
guide to visit the beautiful golden Temple which was amazingly lit up as the sun went down in Yangon.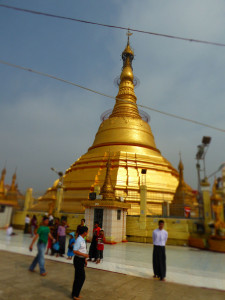 We were lucky enough to experience the procession of a  Shwedagon Paya Rangoon novice monk with his family.  Very colourful and exciting. I took the opportunity of pouring water over my Buddha for Sunday, my birthday, symbolised by the Garuda or eagle…. a Buddhist ritual.
Nye knew that Patricia wanted to see precious gems.  There were no mines near Yangon but Nye took us to a factory and shop where they make jewellery and also supply precious stones like jade and rubies.  These are mined in the north of the country.  We spent some considerable time here, first watching how the jewellery was made and then choosing some tiny precious stones to buy.


We asked our guide and driver to drop us off at the nearest restaurant to our hotel in the evening, where we enjoyed some delicious local crispy prawns in coriander and lime, chicken with cashews, and fried rice with vegetables all washed down with Mayanmar beer! So good, then we walked about half a mile back to our hotel.