We had a very lazy start this morning and finally set o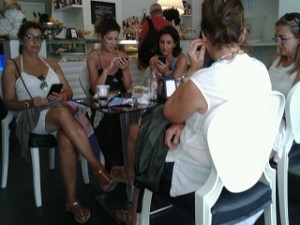 ut for our croissant and coffee breakfast to be taken at a cafe across the square.  We were saddened to see five young girls round a table, who were clearly on holiday together, all intently studying their mobile devices for virtually the whole time we were there.
Anyway, breakfasted, water supplied, cash supplied, we headed down to the quayside to get a boat to one of the islands. Unfortunately the next one wasn't for a couple of hours so we decided to take a bus to Porto Venere.  
Wow, what a bus ride, so scenic as it twisted its way along the coast in and out of little bays and ports, sometimes going high up and then dropping down until we finally reached the prettiest little Porto Venere.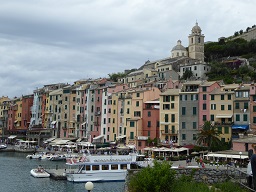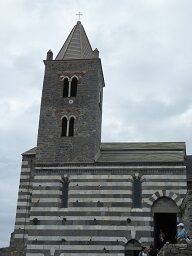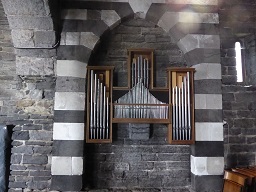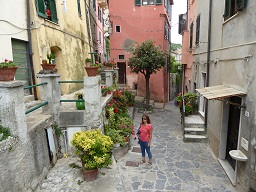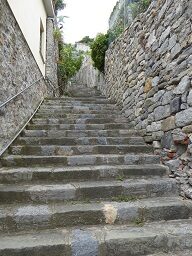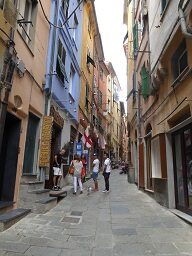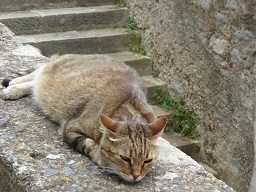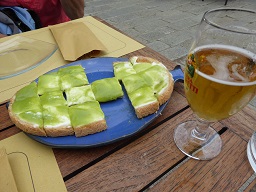 I will just add a few pics here taken as we wandered along by the sea and then up towards the little church which had the tiniest set of organ pipes I've ever seen.  I just loved the sea views through openings in the church wall and gateways.
We then climbed many steps as the little town was just built on a cliff. It felt as if we were intruding on private pathways and steps leading to little homes in back streets.  Beautiful Jacoranda and flowering cacti, as well as the plant from which capers come (Dot informed me).  There was even a laid back Italian cat sleeping on the wall.
Eventually we sat down in a street cafe for a pesto bruishetto and a cold beer before taking the boat back to La Spezia.
An hour or so's siesta, as you do, then we dressed up for dinner.  We had seen an interesting restaurant which seemed more alternative than the others and thought we'd give it a go.  When we arrived there were no customers sitting at the tables.  I said perhaps everyone thinks the same as we do, can't be very good because there are no customers'.  So, despite the rather dubious menu, we thought we would take the lead and be the first customers and perhaps others would follow.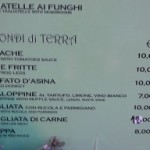 I have never yet heard of donkey on the menu in a restaurant, and was not about to try it now!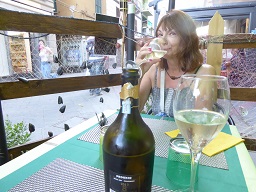 We ordered a starter of mixed seafood followed by steak with rocket and parmesan.  I checked to make sure it was beef! We wanted to try some Prosecco so ordered a bottle…. this was all very reasonably priced so were still a little concernd about our choice of restaurant. However, it was all very nice and we left the restaurant quite happy wondering if the Donkey on the menu was meant to be a lure or a turn off??