At last a reasonable night's sleep! I had to change my booking for this evening as luckily I checked with reception that Busabout was going to pick up outside and not some 30k away! True to form, the pickup is at a hostel with the same name half an hour away near the beach, and not the one recommended!
I spent yesterday evening in the bar over an apple juice with Olivia hearing all about her day in Antibes and her chef job possibilities. She meanwhile was devouring the hostel's 8 euros steak and chips. I really didn't need any more to eat after my delicious 3- course meal in Vence.
This morning I will pack up, get the hostel shuttle to the tram station, then tram down to the centre to book in to the Beach hostel. I then plan to join a walking tour of the area which takes in a castle and the flower market. Maybe Matise Musée later today….
Just writing notes now as time could be limited later and who knows what the Internet will be like. Basically so far it is rubbish in France, the Internet that is! I have to stand by reception to get any sort of wifi signal, and pictures are out of the question!
Arrived at Gallery Lafayette by tram – very easy, and Beach hostel is just nearby. Left bags then went in search of new hat as lost my favourite travelling hat yesterday! I can't believe I just spent 29 euros on a sun hat!! All of a day's allowance!
Just completed the walking tour of Nice, some history, the flower market (where I bought Socco – local speciality crepe with chick peas – delicious.
Also bought cherries for breakfast as blueberries very expensive here). Next a serious hike up to the non-existent castle. It certainly took me some effort to get to the top, while the younger members of our small group thought nothing of the climb. Well worth it though – the views of the whole coast of Nice and the city are spectacular!
I chatted to most members of the group. Our guide was Finnish and it was her first job in France before taking her finals in tourism, then she hopes to go to New Zealand to work…. the world is her oyster I thought. After a picnic at the top together, we descended and dispersed. I had decided to make the 20 minute bus ride to Eze as we were on that side of town. The transport system in Nice is so easy – up to 75 minutes anywhere for a euro 50!
The bus ride up to Eze was amazing. It followed the coastline, getting higher and higher. Fortunately the weather continues to be glorious so the sea was a deep cobalt blue, which looked stunning as a backcloth with terracotta roofs dotted about below.
Eze is another of those picturesque little villages built on a steep hill with many narrow paths and steps reaching upwards.
Every few steps revealed a little artist's gallery tucked in the crevices. I stopped to chat to one of the artists who was busy with a small oil painting of one of the streets. I guessed she had painted it many times. Further up the path seemed to divide and my indecision must have been apparent as a young man offered me directions. He then told me he was planning to have a coffee in this rather posh looking restaurant but was unsure if the'd let him in just for coffee. Anyway, to cut a long story short, he invited me to join him and we spent a very pleasant hour or so on the terrace of probably the most expensive bijou restaurant in Eze!
Paul was from The Czech Republic and had a job 'babysitting' in Grasse, a small village inland from Nice. He wanted to be a carpenter… anyway I won't fill you in with all the details but we spent a very pleasant time chatting about art and travels… as you do.
I left him finally to complete my tour of Eze including the peaceful little chapel. The views all around from the Exotic Garden at the top were breath-taking.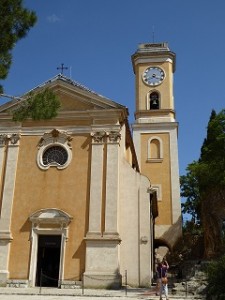 I returned on the no 82 bus and walked back from Metropolis to Mencine and the hostel to check in. A thirteen bed dorm. This was all they had left when I booked the change the night before, but actually it looks fine, just 6 bunks in each alcove so quite cosy… all girls, 2 of them Canadian. They reminded me very much of Jocelyn and Stacey who stayed in Charlbury earlier this year.
I must now go and find a bite to eat and maybe put up some pics I took today later…
At last found a way to resize pics so they upload faster. Just had a nice chicken brioche from classy takeaway in the square…. beats the burgers and chips in the hostel! Now off to bed ready for Como tomorrow!