Up at 5.30, in fact I was awake at 4, to head off to Auckland to catch flight home. Leigh and Dan very kindly drove me to the airport, some four hours, and we had an extra passenger. Tessa, daughter of Leigh's friend, Marie, was off to Whangarei to stay with a friend and would be taking a domestic flight from Auckland.
Anyway, I felt more than a touch of sadness as we left the house in Wembley Place. The Lake looked purrrfect this morning in a soft pink morning light and the mountain was clearly reflected in the water.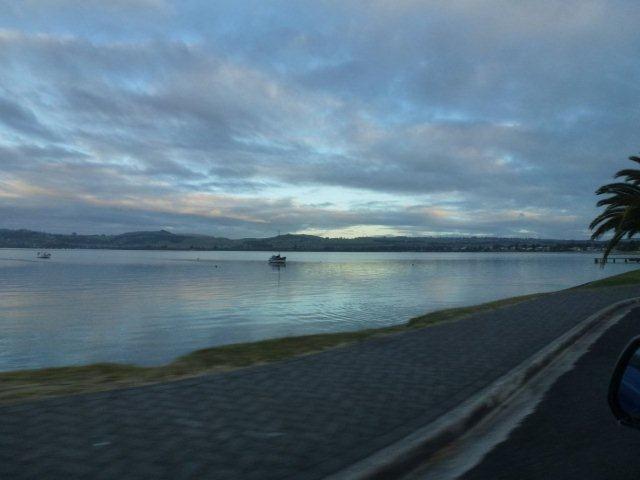 As I passed through Taupo for the last time, I noticed they were putting up the Christmas decorations in the street.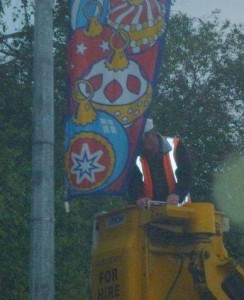 The drive to Auckland was fairly uneventful with the usual beautiful scenery and good roads, and we arrived in good time.
… and here is New Zealand's Christmas Tree, the Pohutukawa. The last photo of over two and a half thousand taken in New Zealand over the past two months. Goodbye New Zealand.
After saying our farewells, I went through customs and waited a couple of hours for my flight.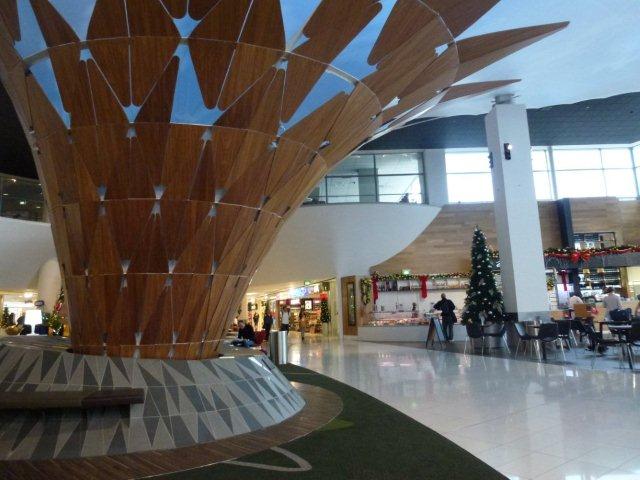 During the first leg of the journey to Melbourne, I read several chapters of the book Leigh recommended at the airport. I watched the movie "Midnight in Paris", a comedy love story, followed by "The Red Dog", an Australian film and a bit of a tear-jerker, as most animal movies are. This, together with a beef casserole lunch, pretty well took up the four hours flying time.
We arrived on time in Melbourne where we had to pass through customs again… grrr such a hassle.
Here I boarded the great Airbus A380 which was to take us all the way to Heathrow via Singapore.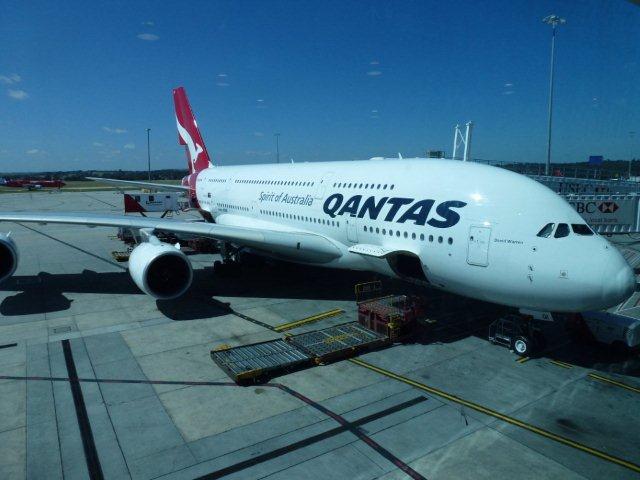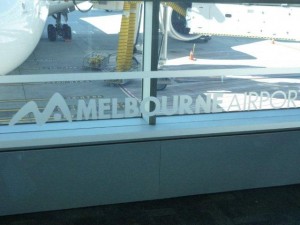 I wandered round the duty free to stretch my legs before we boarded the flight. The next leg of the journey was to be seven hours! After a Gin & Tonic and the a good dinner of Chinese style pork, and then a snooze, I settled down to watch the movie "Australia" with Nicole Kidman – brilliant film! I noticed during the flight on the touchscreen in front of me that our flight path took us over south and western Australia (Adelaide and Darwin I think) before heading over the Tasman Sea, and back over Indonesia.
We arrived on time in hot Singapore, although I really haven't a clue what the time is now as I put my watch back to Singapore time. I'm not sure why because it has really confused me! My watch now says 10.20 and it must be at night because it's dark.
No doubt I will get the time sorted when I put it back to UK time during the next flight.
I just caught a glimpse of some Malaysian Sampan-style boats with lanterns as we approached the Airport.
The time waiting for refueling in Singapore was brief and we just waited in the departure lounge. I had been to this airport before so didn't really need to look around much.
We then boarded the great Airbus for the final 14-hour leg to London.
My Malaysian neighbours on the previous leg of the journey had disembarked in Singapore and instead I had a couple of young Englishmen beside me. The one next to me chatted about his holiday in Cairns where he had been deep-sea diving in ship wrecks. That's one thing I didn't get around to doing on my adventure and sounds like a lot of fun.
As soon as we were airborne again, the trolly came round with drinks and dinner. This time crumbed fish with potatoes and vegetables. I must say I was quite impressed with the food and service on the Qantas flights. We never went hungry or thirsty. They even supplied us with a little bag of snacks before we settled down to sleep in case we woke during the long night (and it was a long one!) and became hungry. The Airbus was brand new with extensive personal entertainment facilities built into the backs of the seats. However, no matter how hard they tried to make us comfortable, sitting in one place for over 14 hours causes considerable discomfort, particularly to someone like me with long legs. My purchase at the airport of a U-shaped neck rest certainly helped. I dozed for quite a long period but I couldn't help but feel sorry for a couple with a young baby that cried throughout the whole flight apart from a few hours when the lights were dimmed. Fortunately we could shut most of this out with our audio headsets.
At 4am breakfast was served, either continental or fully cooked. I went for the works as by now I was wide awake and ravenous again. We touched down at Heathrow only a few minutes late and the whole flight, including take-off and landing, was smooth and completely flawless.
Needless to say it was raining at Heathrow. However there was Emily waving at me with a happy smiley face as, with rucksack over shoulder, I wheeled my bag out into arrivals, the intrepid traveler! It was good to be back, well for now anyway! Emily and I grabbed a coffee before braving the airport traffic. Kerrie had stayed in bed worse for wear after her big office Christmas event, and I don't blame her!!
Well that is about all as far as my 3-month trip of a lifetime down under goes folks. I have many people to thank for making it so special but tops are Melinda & Dennis, Kylie, and Leigh & Dan. (Incidentally, these names are placed in the order I visited them. I am forever reminded of the birthday cake faux pas!) …. and yes, Leigh, I do believe New Zealand and Australia are on top of the world!
I am now staying with the girls for a few days. This afternoon we put up the Christmas Tree and Emily cooked a good English roast beef dinner.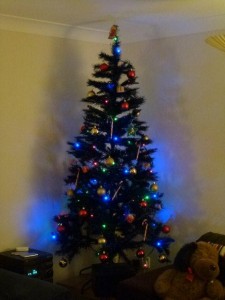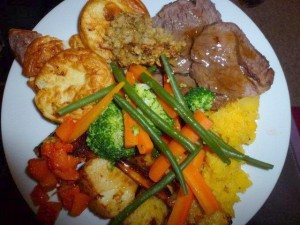 This is Mia, an overnight lodger …take note Sally 🙂