Today Leigh and Dan are working at Ruapehu School. I took a walk around the little ski-ing town of Ohakune which was very quiet out of season.
I walked up to the school where I arrived in time to catch the staff partying at 11am. The table was spread with goodies and I was invited to join them. These teachers have such a good time! …. only kidding. It was good to meet some of the faces I'd only seen chatting to Leigh on Facebook.
As they all went off to their meetings, I wandered down towards the town. I chatted briefly over the fence to the owner of a dog, cat and fawn who were all in her front garden together…. strange or what!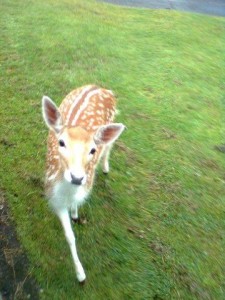 Then I heard the sound of water, always a draw for me, and found myself following the path of a fast flowing river rushing over rocks, which was probably glacier fed from the mountains. The vegetation along here was pretty with flax, lupins and toitoi.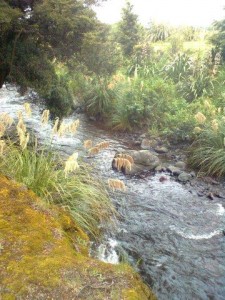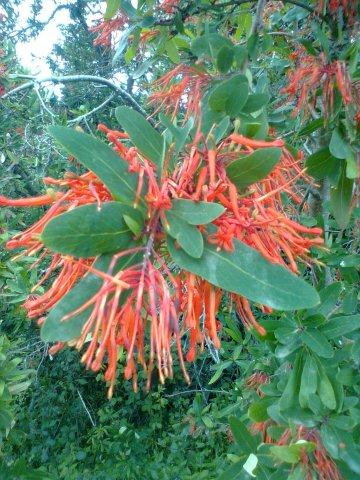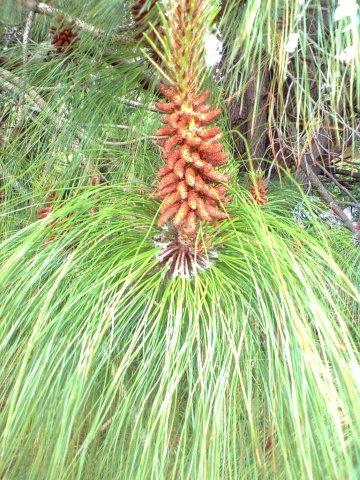 I followed the river path for a while before returning towards the town past some interestingly shaped ski chalets. The whole area is built and designed round the mountains for ski-ing.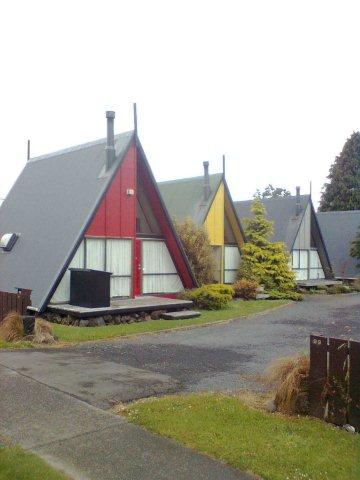 I finally arrived at the metropolis of the town centre… a handful of shops, including a post office, a clothes shop, a mountain bike rental store and a supermarket. As I was reading up the tourist display panel about how Ohakune had been developed as a market gardening centre by the Chinese, Leigh drew up in her car beside me.
Her morning of meetings finished, we went for a coffee before her afternoon stint at school.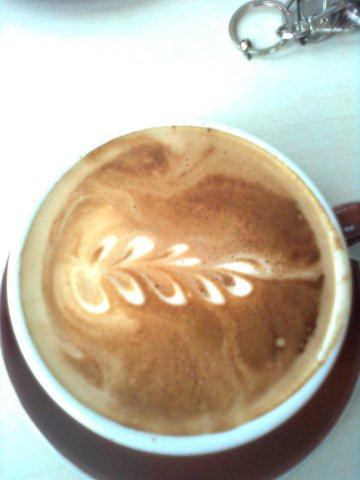 She gave me a lift back to her unit where I caught up with blogs and stuff until the sun came out. This was obviously the time to check out the mountain which you could normally see clearly from Leigh's apartment on a clear day.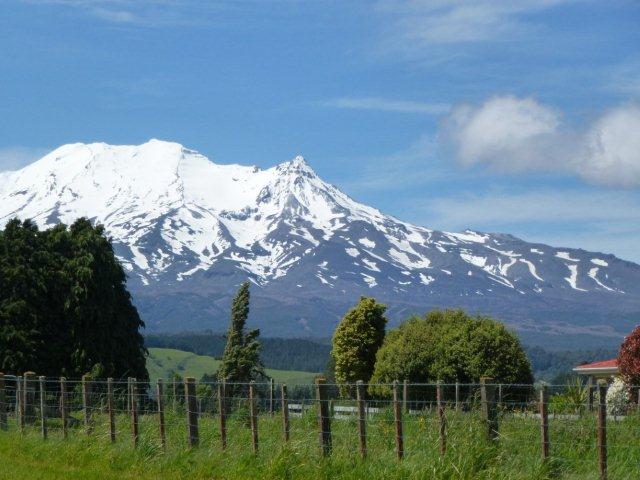 and sure enough… there it was! Isn't it beautiful!!
There is also a little small-holding behind the house with goats, chickens, ducks and sheep, and maybe a few other creatures….
Leigh came home early, around 3 and we set off for her home in Taupo where she goes at weekends. She took me a roundabout way to show me the sights and most especially the mountains and waterfalls as it had turned into a beautiful afternoon.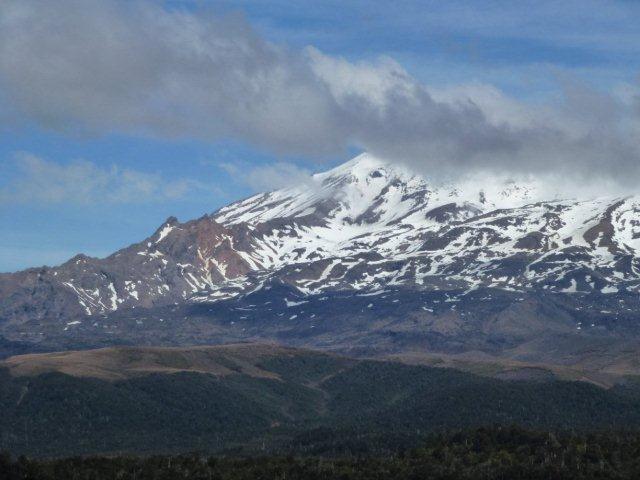 Love this kiwi in skis!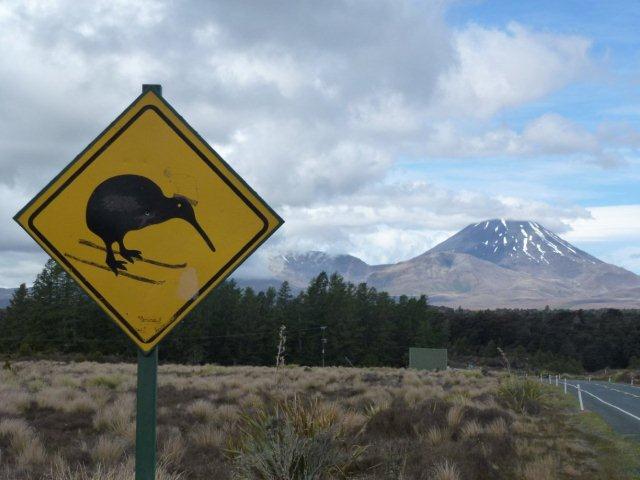 This is Mount Doom, for those Lord of the Rings fans amongst you.
Here is the Chateaux in the Tongariro Park. It is a huge country house and seen here, completely dwarfed by the mountains behind. We stopped here to enjoy the luxury and views from inside…. and a G&T.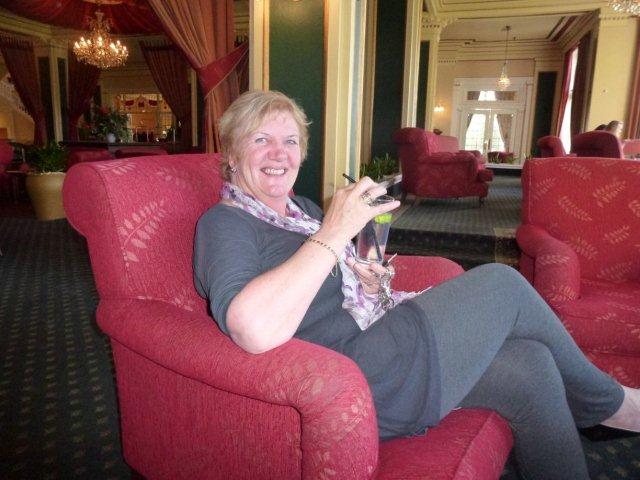 Here we stopped at a Maori-owned lake which filtered through the hills to a steep drop on the other side creating electricity.
By now we had reached Taupo Lake but there was still a fair drive round the biggest lake in New Zealand before reaching home and the views were stunning.
This is a little Maori church which I thought could have been a model made from matchsticks.
The Lake back in Taupo was a deep turquoise colour and slightly choppy but it was good to be back and it felt like home.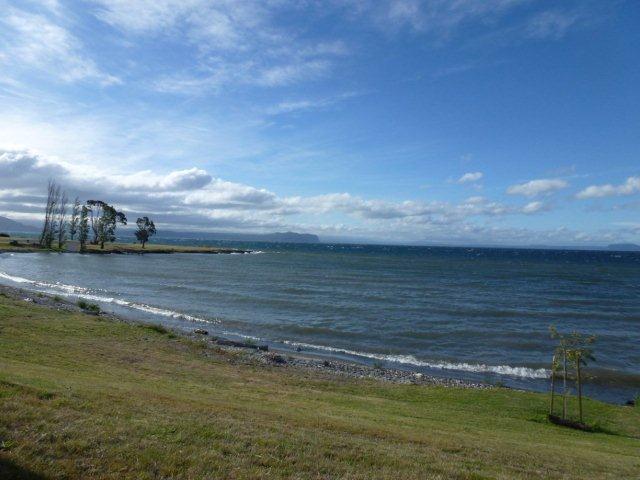 Many of the flowers were now blooming in Leigh's garden as we were now movin into summertime… must get painting again before I set off for home.