Today is a day of rest, for getting up late, sorting out some washing, answering emails…. and maybe a few scrabble moves.
I finally ventured out into the bright sunshine at around 2pm to explore the town of Warwick, just a 5 minute walk. It wasn't long before I came upon St Mary's Church which looked very English with it's tower. However, I don't believe it has bells hung for ringing. Sadly the church was locked and I was only able to peer through a crack in the door to see the beautiful circular stained glass window over the altar.
I proceeded on to the main street. A very laid back Aussie style quiet town but with plenty going on and everything you need. I immediately recognised the trees that had, only a few weeks before, been dressed in "woolly jumpers" for the Warwick Carnival. Kylie had sent me photos.
I had decided earlier that I'd like to buy a cheap cotton skirt as it was so warm and I was fed up with cut offs. I also felt the need to have my hair trimmed, something I didn't get around to doing before I left the UK. So I returned a couple of hours later pleased with my new purchase in a sale and at last my fringe off my face.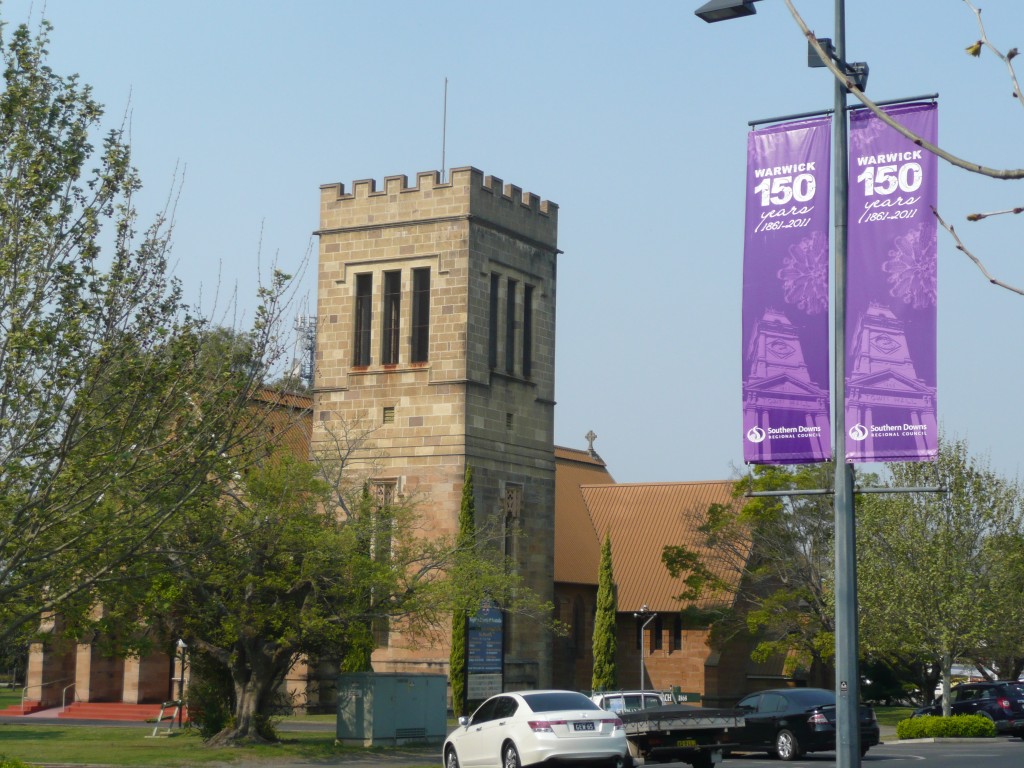 The rest of the afternoon was spent chatting with Kylie and Ashling. Jera was in and out with his friends. I later started reading The Dog Fence…. an interesting book by James Woodford about his journey traveling the length of this fence which divides Australia to keep out the Dingoes. It is so descriptive of his feelings for the tough Australian terrain and its inhabitants.
It was nice just to relax from aeroplane, bus, train and car journeys for a day, although they are essential in this country for getting anywhere.
I must just report on the delicious dinner Kylie made in the evening which everyone voted a huge hit, including Kylie (although she said it herself). This was Natchoes with hot chilli mince, homemade guacamole dip and sour cream – oh it was soooooo good!